Ed Harris Joins 'Man On A Ledge'; First Promo Pic Arrives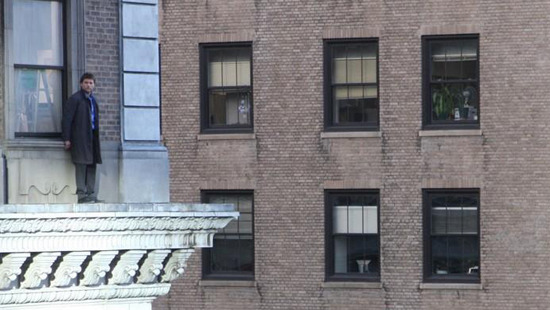 And the first photo from Man on a Ledge, which just began shooting with Sam Worthington starring as the titular character, shows...Sam Worthington on a ledge. How appropriate. Ed Harris has joined the cast, too, which makes this talent lineup a bit more interesting. More info on Asger Leth's in-progress film after the break.
Here's what Summit has to say about the film:
An ex-cop and now wanted fugitive (Sam Worthington) stands on the ledge of a high-rise building while a hard-living New York Police Department hostage negotiator (Elizabeth Banks) tries to talk him down.  The longer they are on the ledge, the more she realizes that he might have an ulterior objective.
[The] ensemble cast [includes] Anthony Mackie (The Hurt Locker), who portrays Worthington's best friend and ally and Jamie Bell (Billy Elliot) who is Worthington's younger brother and ardent supporter.  Also along for the ride is four-time Oscar® nominee, Ed Harris (Pollock) who plays a powerful businessman, while Edward Burns (27 Dresses) is a rival negotiator who tries to swoop in when he believes Banks has a conflict of interest.  Newcomer Genesis Rodriguez (Casa di me Padre) plays Bell's girlfriend who along with Bell, tries to prove Worthington's innocence.
Asger Leth (Ghosts of Cite Soleil) directs, from an original screenplay written by Pablo F. Fenjves (The Affair) and Erich Hoeber & Jon Hoeber. Paul Cameron (Man on Fire) is the Director of Photography.
Here's the full PR photo, which you can click to enlarge.