Johnny Depp Offered Lead In 'Snow White And The Huntsman'; Charlize Theron Rumored As The Wicked Queen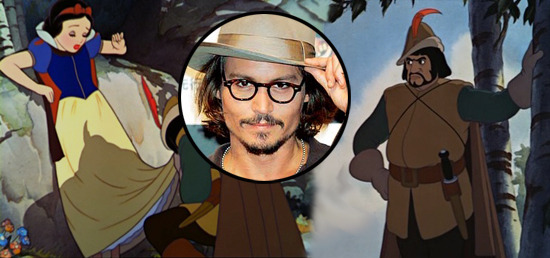 Every couple of days it seems like there's a new 'hot project' in Hollywood, and lately most of these films have been genre pictures of some kind: superhero, or ones at least tinged with fantasy or science fiction. The latest is Snow White and the Huntsman, thanks to a buzzed-about script from Evan Daugherty and the hiring of British commercial director Rupert Sanders. In this case, however, the script is actually pretty damn good.
Universal just announced that it would pit the film against the first part of The Hobbit in December 2012. Now the studio needs to cast the film. Charlize Theron has been rumored as Ravenna, the wicked queen, and now an offer is reportedly out to Johnny Depp to play the title role of the Huntsman.
Snow White and the Huntsman reworks the classic fairy tale by giving more back story to Eric, the bounty hunter / hunstman who Ravenna hires to find and kill Snow White. He eventually refuses to kill the girl, instead tagging along with her as mentor. The setup sounds like Snow White plus Prince of Persia, but what I've read of the script is solid and Eric/the Huntsman is well-written.
There is still a love story aspect, as the Huntsman doesn't replace the Prince. In fact, the first few pages detail how Snow White and Prince Charmant (not a typo) grow up together and fall in love. The Huntsman has his own romantic stuff to deal with.
When the rumor of Charlize Theron's participation first cropped up the actor said to be in talks for the Huntsman was Tom Hardy, and given that both are on hold from the new Mad Max film, there was something appropriate about the idea of them ending up in this film. But Tom Hardy is going to be quite busy soon with The Dark Knight Rises after he finishes McG's film This Means War. So he's out if Universal wants to get this one moving quickly.
Enter Johnny Depp, even though he's one of the busiest actors around. There's a possible gig with Tim Burton in Dark Shadows, which has been reported to shoot early next year. But Mr. Burton is reportedly waiting for a Dark Shadows script so he can decide between that and Monsterpocalypse. So there's a possibility that Johnny Depp might be able to don some woodsman's clothes. Nothing is official for now, however, so wait until we get more info to get too attached to this idea.
I would have loved to see Tom Hardy in this role. He would have demolished it and, even more than a villainous turn in The Dark Knight Rises, it might have been the one to make him the new Johnny Depp. But he's also young for the role — specified as 40 in the script. The old Johnny Depp would be more than capable, and more age-appropriate. Think of Captain Jack Sparrow in a straighter role linked to the tone of the original Snow White story and you're on the right track. [The Wrap]