Wesley Snipes To Star With Huge Collection Of Fighters In 'Master Daddy'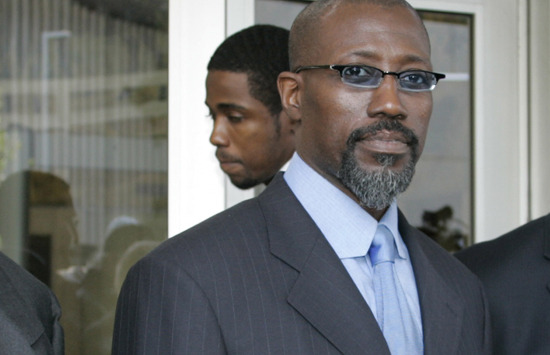 Wesley Snipes may have high aspirations to do his own film about Dr. Martin Luther King Jr. and the way that J. Edgar Hoover and the FBI attempted to control and/or discredit the civil rights movement. But don't think that Mr. Snipes isn't going to keep making regular old movies. He's got a tax bill to pay, after all.
So here's news of a martial arts comedy called Master Daddy that the action star should start shooting any time now. And wait until you see the guest appearance list, which kicks off with the internet's favorite ass-kicking meme, Chuck Norris. 
Variety's report on the subject quotes Wesley Snipes saying "This multi-racial action comedy is a mix of 'Kung Fu Hustle' and 'Meet the Parents." Which is... well... I don't even know. Who is meeting what mentoring or parental figures here? Dying to know more.
Meanwhile, here's the talent lineup. Variety skimped and just threw out this group of names: Chiba, Frazier, Gracie, Hung, Inosanto, Jaa, Rhee, Kim, Lee Mosely, Bob Wall, Rampage, Anderson Silva and Ron Van Cleff
Those single names translate into, I'm guessing, Sonny Chiba, Joe Frazier, Royce Gracie, Sammo Hung, Dan Inosanto, Tony Jaa, Philip Rhee, Dong Hyun Kim, and Rampage Jackson. That's an insane collection of fighters from several generations and a wide variety of disciplines.
Put all that together and the reference to Kung Fu Hustle makes more sense, as that film saw nearly a Master of the Flying Guillotine level of fighting styles colliding.
(And, yeah, this one has been around for a day or two, and other things kept getting in the way of posting it. This sounds far too ridiculous for us not to have represented here, and hopefully it's a comically wonderful bit of news for you to end the week.)