Movie Trailer: 'Ice,' Starring Stephen Moyer And Sam Neill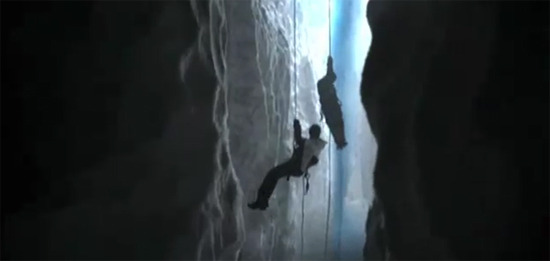 I didn't know anything about the film Ice before today — it is an adaptation of James Follett's environmental apocalypse thriller. Think The Day After Tomorrow, without all the Roland Emmerich bombast. There's a trailer for Ice after the break, during which you might ask, "well, actually, could we have a little more bombast?"
The cast here is potentially good: Stephen Moyer, Sam Neill, Frances O'Connor, Richard Roxburgh, Claire Forlani, Ben Cross, Simon Callow and Patrick Pergin. (Weird: Frances O'Connor and Sam Neill are also in the Australian film The Hunter, shooting now.)
The icy stuff actually looks fun and like it might have a bit of tension that would help give the film a little excitement. But the rest of it: yowtch. What a bunch of crudely-recycled environmental and post-apocalyptic cliche. Looks like there's some painful stuff in here.
Nick Copus directs — he made the recent BBC version of The Day of the Triffids, and he's also directing A Dead Man in Deptford, with Sam Riley as the playwright and possible spy Christopher Marlowe. Let's hope Ice is just a speedbump between those projects.
Here's an extensive synopsis from The Quiet Earth:
ICE sees the destructive effects of climate change cause unimaginable devastation and panic worldwide as the human race finds itself contemplating the dawn of a new ice age.
It is 2020. Findings by environmental scientist Professor Thom Archer suggest that Halo, the corporate energy company drilling on the Greenland Glacier are causing it to melt. Archer's warnings are ignored, so he heads to the Arctic to find indisputable evidence. Upon arrival, he realises humankind is under immediate threat, and races home to save hisfamily.
The glacier collapses, with devastating consequences. Astonishing weather patterns emerge and plunge the world's temperatures into steep decline. ICE confronts a wholly terrifying and plausible natural disaster of epic proportions. This uncompromising production sees a planet on the brink of annihilation, unleashing an apocalypse with an intensity and magnitude audiences will never forget.