Joe Dante, Xavier Gens And Vincenzo Natali In Director Lineup For Anthology 'Paris, I'll Kill You'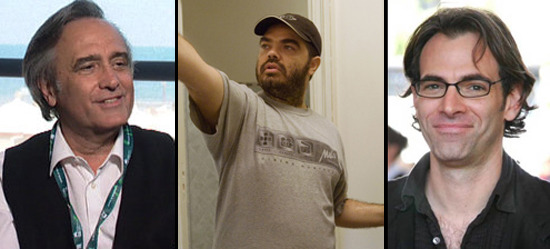 While it's easy to look at the past through rose-colored glasses (or bloody ones, in this case) and think that there have been many great horror film anthologies, that's just not the case. There are certainly a lot of horror anthology films, but few amount to much. I'm hoping that Paris, I'll Kill You, a horror riff on Paris, je t'aime, will be the exception.
This project boasts a hell of a directorial lineup: Joe Dante (Gremlins), Xavier Gens (Frontiere(s), Hitman), Joern Heitmann (Tokio Hotel), Julien Maury & Alexandre Bustillo (Inside), Ryuhei Kitamura (Versus, Midnight Meat Train), Vincenzo Natali (Splice), Paco Plaza ([REC], [REC] 2) and Christopher Smith (Severance, Triangle). I can't imagine any genre film fan not anticipating this at least a bit with that set of filmmakers corralled into one space.
Looking critically at the lineup, the presence of Vincenzo Natali, Christopher Smith and Julien Maury & Alexandre Bustillo is what really gets me interested. Joe Dante and Ryuhei Kitamura are great names to have on board, but realistically it's been a while since either made a really fun/great picture. I've heard some good things about Joe Dante's latest, The Hole 3D, but haven't had a chance to see it. And, in fact, Joe Dante was part of the horror anthology Trapped Ashes, for which I had high hopes and which turned out to be pretty terrible. So: caution there.
But this is a horrific look at Paris as seen through the eyes of those directors, with a framing story holding it all together, and that's enough for me to set aside past disappointments. Give me a cheeky, gory, weird tour of the city and I'll be happy.
Paris, I'll Kill You will be making the rounds at the American Film Market next week, and is currently slated to shoot in spring or summer of 2011.
Here are the relevant/interesting bits from the press release:
Set for production in Spring/Summer 2011 PARIS I´LL KILL YOU will comprise ten story segments from the world's foremost horror/thriller and action directors including (in alphabetical order): Joe Dante (GREMLINS, THE HOLE), Xavier Gens (FRONTIER(S), HITMAN, THE DIVIDE), Joern Heitmann (RAMMSTEIN, TOKIO HOTEL), Julien Maury & Alexandre Bustillo (À L'INTÉRIEUR, LIVIDE), Ryuhei Kitamura (MIDNIGHT MEAT TRAIN,VERSUS), Vincenzo Natali (CUBE, SPLICE), Paco Plaza (SECOND NAME, [REC], [REC] 2) and Christopher Smith (CREEP, SEVERANCE, BLACK DEATH).
Spanning the gamut of the genre including fantasy, suspense and pure, terrifying horror, Paris IKU is a twisted look at the City of Love. Through its diverse stories, woven together by one connecting story, it will take its audience deep into the seedy underbelly of a Paris a long, long way from the pretty honeymoon cliche. Say producers Darryn Welch and Mathieu Robinet: "The Stars of this show are the Directors. Since we started with the project we've had tremendous response from Directors willing to collaborate, it's something fresh and something they can really sink their teeth into; it's also a true fan boy project."