Cool Stuff: Bill Murray Playing Every Role In Wes Anderson's Films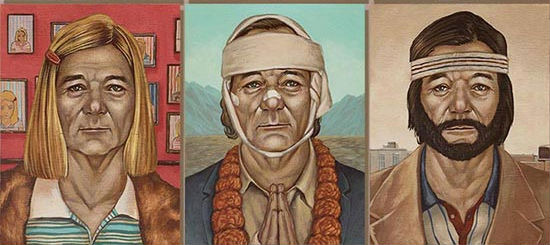 We've already given you two previews of the awesome Bad Dads show opening this weekend at the LoPo Gallery in San Fransisco featuring art based on the films of Wes Anderson. You can look at those posts here and here and while there's some gorgeous stuff in there, the art from this show that's getting the most chatter online are these paintings by Casey Weldon. Casey asked the question, "What if it could be all Murray, all the time?" And that lead him to create paintings of Bill Murray playing Max from Rushmore, Margot from The Royal Tenenbaums, Francis from The Darjeeling Limited and more. Check out all six painting, and buy them if you want, after the jump.
The original paintings up in the gallery are 6 x 8's and, if they don't sell, will probably be up for sale this weekend over at SpokeArt along with the rest of the art in the show. Right now, 11 x 14 prints are available by clicking here.
After we posted our two previews (here and here, again, cheap plug), SpokeArt continued to publish more pieces from the show over at their Facebook page, so we urge you to check that out. Also, Tim Doyle posted a full series of five pieces of art from the show. Several were in our earlier posts, but some are brand new. Check out his art here.
Bad Dads is open from October 30 through November 27 at the LoPo Gallery, 1171 Polk St., in San Francisco, CA. Gallery hours are noon-7 p.m. Tuesday through Saturday.
Source: Buzzfeed