Cool Stuff: Scott Pilgrim Action Figures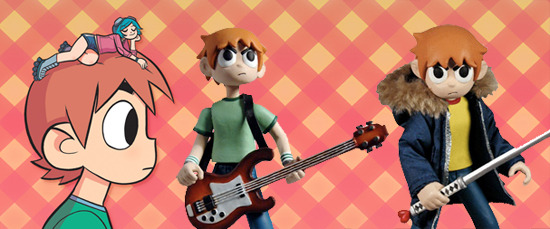 Generally I'm  bulletproof when it comes to little plastic versions of things I love. But even my cold heart is tempted by these Scott Pilgrim figures, which are a fine little recreation of Bryan Lee O'Malley's art style. They're a bit pricey at $30 for the pair, and don't release until April of 2011. But there's a pre-order up now at Mezco Toys, and I'd be surprised if these aren't gone way before the actual objects hit the street next year. Larger pics are after the break.
The info on these comes via Topless Robot; here's what Mezco has to say about the toys:
Mezco's 6" figure captures the wide-eyed enthusiasm and quirky nature of Scott Pilgrim and features 8 points of articulation. To help capture the many looks of Scott Pilgrim, there are 2 separate figures; The first figure wears a green shirt and comes with a closed mouth head. The second in a yellow shirt comes wearing a jacket and has 50/50 pack of the open mouth/closed mouth head. Both variations will come with the sword and guitar.
Each individually packaged. You get a set of 2, one of each shirt color. This item has variants (painting/ sculpting/ or other) randomly inserted throughout the production run. Mezco is unable to accept requests for specific variants.