'Mission: Impossible - Ghost Protocol' Official Title Of Fourth 'Mission: Impossible' Film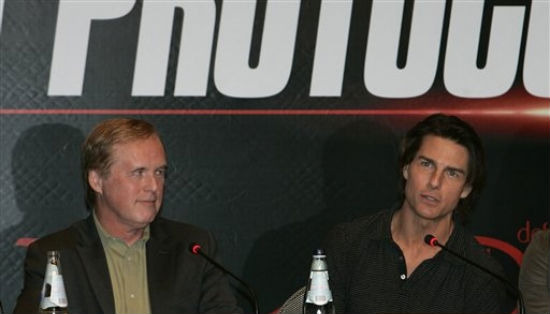 Who knew that Brad Bird and Tom Cruise were going to go all Tom Clancy on us? At a press conference in Dubai about the fourth Mission: Impossible film, director Brad Bird along with stars Cruise, Jeremy Renner, Paula Patton and producer Bryan Burk answered question in front of a banner that oh so subtly announced the title to the fourth film: Mission: Impossible – Ghost Protocol. They also revealed that they'll be doing a lot of filming in Dubai, including on the world's tallest building, Burj Khalifa. There are a few other nuggets of news after the jump.
The Associated Press was at the press conference (with a tip of the cap to Collider) and got Bird and Cruise to, sort of, go on record about the film. There were three revealing quotes.
Cruise confirmed that there will be a lot of shooting at the Burj Khalifa.
I'll be spending many days, many hours on the side of this building, I can't give you details, but I will be up there.
And here's an AP video giving a little background about the building. Looks like an awesome setting for the film.
Though Syrianna and Duplicity have both been set and shot in Dubai, Ghost Protocol is reportedly going to include the most extensive use of the city yet, according to Brad Bird.
We love the fact that it's a big, new city, that it hasn't been photographed very much ... It's almost like sets that you could never afford.
And Cruise even commented on rumors of a sequel to Top Gun being released and if he would possibly be reprising his role as Maverick.
Those things are a long way off. It takes a long time to figure out stuff.
The film has already shot in Prague (and we showed you some set photos here) and after extensive shoots in Dubai, also has to go to Moscow and Vancouver.
I know that everyone was against just calling the film "Mission: Impossible 4" but, personally, I think that's a better title than the mouthful "Mission: Impossible – Ghost Protocol." Still, if the film does indeed have more in common with the popular Tom Clancy video game Ghost Recon, there's nothing wrong with that.
Mission: Impossible – Ghost Protocol will be released on December 16, 2011.