Showtime Launches Video Streaming Service To Compete With HBO, Comcast And Netflix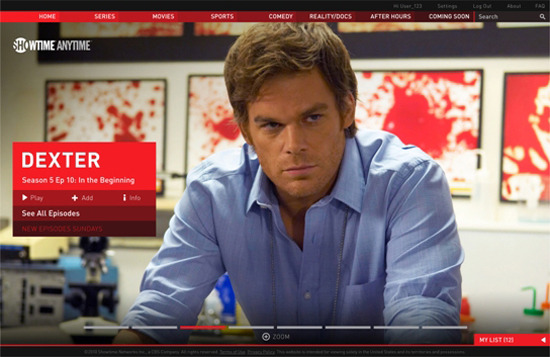 With Netflix announcing astounding growth for the company's streaming movie service, other companies are getting into the streaming game, too. HBO recently started a service called HBO Go, and this week Comcast's own broadband portal, Xfinity TV, launched the free online streaming portion of the service package it plans to offer.
The latest is Showtime, which has now launched a service called Showtime Anytime, which will offer "more than 400 hours of Showtime series, movies, sports and other offerings."
The service is accessible via ShowtimeAnytime.com or through a cable provider's broadband portal such as Comcast Xfinity TV. There's already a great deal of commentary on the rapidly developing suite of services to stream content to subsrcibers rather than deliver it via disc media, traditional broadcast, or cable, and seeing this change in action is a beautiful thing. More content is getting to a broader audience with greater ease and fewer barriers than ever before.
Here's a chunk of the Showtime press release, which runs down a great deal of what the streaming service will offer:
SHOWTIME ANNOUNCES "SHOWTIME ANYTIME™, THE NETWORK'S NEW AUTHENTICATED BROADBAND SERVICE
Comcast Customers Can Access SHOWTIME Series, Sports, Movies And Specials Now Through Xfinity TV
SHOWTIME® Subscribers Can Now Watch Programming Online
NEW YORK – October 27, 2010 – Showtime Networks has launched SHOWTIME ANYTIME, a new, broadband video-streaming service that will be free to SHOWTIME subscribers through the network's cable, satellite and telco affiliates. SHOWTIME ANYTIME gives subscribers the flexibility to watch more than 400 hours of the network's critically acclaimed, award-winning programming, hit movies and sports offerings online, whenever and wherever they'd like to watch it – at home, at the office, or on the go. The announcement was made by Matthew C. Blank, Chairman and CEO, Showtime Networks Inc.
Access to the service may vary by operator – subscribers will either go to ShowtimeAnytime.com, launching commercially later this year, or gain access through their operator's "TV Everywhere" portal. SHOWTIME subscribers will need to present credentials supplied by their television provider to watch programs on the service. Users will be able to browse the service online, however to watch the network's programming, the viewer will need to be an authenticated SHOWTIME subscriber. Comcast customers can access the service now through Xfinity TV's online service at XfinityTV.com. Additional participating MSOs will be announced at a later date.
SHOWTIME ANYTIME will offer current and past seasons of the network's hit series that include DEXTER™, WEEDS, CALIFORNICATION, NURSE JACKIE, THE BIG C, UNITED STATES OF TARA™, THE REAL L WORD™, THE TUDORS, SECRET DIARY OF A CALL GIRL, and the upcoming comedy and drama series EPISODES, SHAMELESS and THE BORGIAS. Subscribers will also have access to the network's hit movies, including Academy Award®winner THE HURT LOCKER, INGLOURIOUS BASTERDS, TWILIGHT, THE TWILIGHT SAGA: NEW MOON and ECLIPSE, QUANTUM OF SOLACE, SAW V, VICKY CRISTINA BARCELONAand W. among many others. Additionally, the service will provide a diverse mix of comedy specials, provocative documentaries, and hard-hitting sports programming including SHOWTIME CHAMPIONSHIP BOXING®, INSIDE NASCAR, the SUPER SIX WORLD BOXING CLASSIC™and STRIKEFORCE CHALLENGERS MIXED MARTIAL ARTS