Cool Stuff: Simpsons World – The Ultimate Episode Guide: Seasons 1-20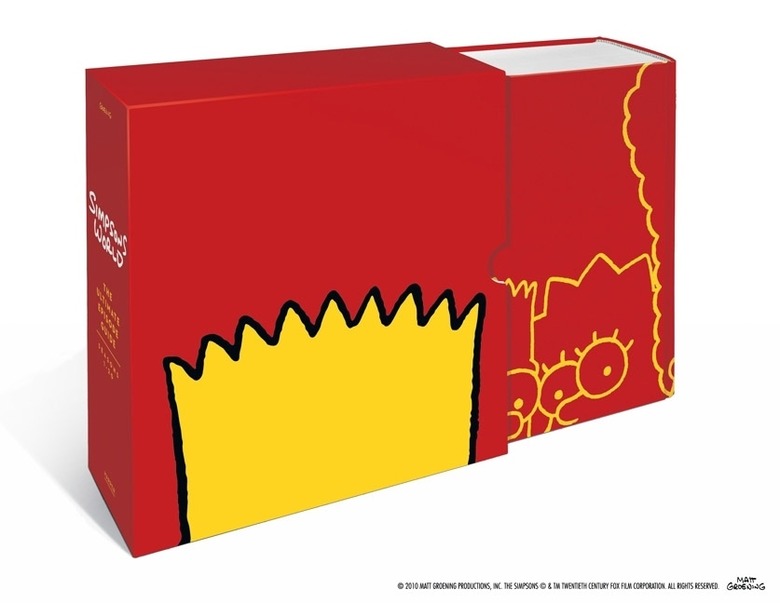 We may receive a commission on purchases made from links.
It Books has published Simpsons World – The Ultimate Episode Guide: Seasons 1-20 written by Simpsons creator and executive producer Matt Groening. The 1200 page hardcover book features comprehensive episode synopses and information of every episode of the first 20 seasons of The Simpsons.
Look what you get in this cromulent compendium! Comprehensive episode synopses for 20 seasons of Simpsons, including 128 new gut-busting episodes never before covered! Stuff you may have missed! More screen shots than ever before! Over four hundred character profiles! Every chalkboard phrase Bart has ever written! Nifty new art throughout! Quotes and quips from all your favorite characters! Two or more jam-packed pages devoted to every episode! As well as: Every couch gag, A complete filmography of "Itchy & Scratchy", Every "D'oh" or "Mmm..." Homer has ever uttered, Every song ever sung by the citizens of Springfield, Every marquee message from the First Church of Springfield, A tribute to star of stage, screen, infomercials, and filmstrips, Troy McClure, The largest collection of Krusty the Clown merchandise outside of Bart's bedroom
A complete list of celebrity guest stars, and much, much more... Packaged in the ultimate wraparound slipcase and weighing in at a hefty 8.8 pounds, Simpsons World The Ultimate Episode Guide (Seasons 1-20) is meant for reading, not throwing!
Amazon is selling the book for $90, 40% off the retail list price of $150. Hit the jump to see some sample pages.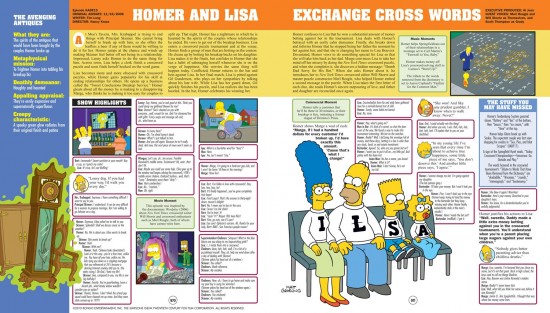 More pages thanks to Vulture: