Tom Hardy In Talks To Star In 'Snow White And The Huntsman'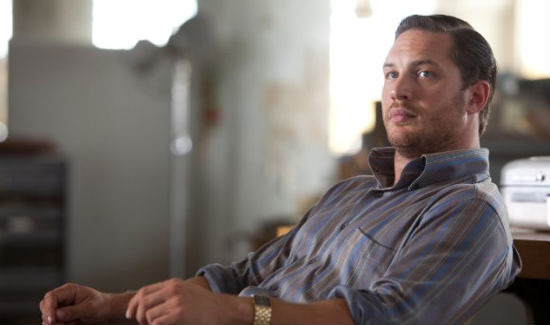 We're into the final turn and Universal now leads Relativity by a nose. It seems like only yesterday that Relativity Media's The Brothers Grimm: Snow White was leading the race to get everyone's favorite dwarf loving brunette onto the big screen. Now, Universal's competing project, Snow White and the Huntsman, is gaining momentum as reports have surfaced that Tom Hardy, he of Inception and the upcoming Batman 3, is eying the lead male role of the Huntsman. In September, Universal picked up the script by Evan Daugherty with commercial director Rupert Sanders set to direct. Oh, and they are hoping to cast Angelina Jolie as Snow White. We break down the Snow White horse race and Hardy's availability after the break.
The Playlist exclusively got the info about Hardy "circling" the project. The fact is, though, if it wasn't for Mad Max: Fury Road, he wouldn't be in any of these films. Hardy was all set to kick major ass as Mad Max but the film suffered massive production delays and Hardy found himself with a free 2011. He replaced Sam Worthington as one of the lead roles in McG's This Means War where he and Chris Pine will fight, literally, for the affections of Reese Witherspoon. Then, he was cast as a villain in Christopher Nolan's Batman 3 which is rumored to start shooting in March 2011. So, if Hardy is really going to be in the fast tracked Snow White and the Huntsman, he'd have to shoot it in the first few months of 2011. Will the production be up and running by then? Only time will tell.
For those who might be in the dark about this incredible Hollywood Snow White horse race, we detailed it in this article a few weeks back. The gist of it is that both Relativity and Universal recently bought very expensive spec scripts with an eye on piggybacking the success of Tim Burton's Alice in Wonderland. The Relativity project, directed by Tarsem Singh, is a twisted retelling of the original Brothers Grimm tale and Universal's Snow White and the Huntsman is about the evil queen hiring a man (the titular "Huntsman") to capture Snow White, who then falls for her and the two go on the run and train to fight back. Disney is also working on an updated version of their timeless classic where the seven dwarfs are Shaolin Monks.
Out of all of those projects, The Huntsman certainly sounds like the most fun. But Tom Hardy in a family fantasy film? Well, The Playlist says they've read Daugherty's script and love it:
It's actually very strong, one of the better action-adventure scripts we've read in a while. It's faithful to the fairy tale, beat-for-beat, but manages to remain fresh and surprising in a way that, say, Burton's film didn't. And Hardy's role, as Eric, the huntsman haunted by the death of his wife at the hands of a white wolf, is a doozy—tragic, heroic but with enough roguish charm to play to his strengths—and should see him move even further up the A-list.
After seeing him in Bronson and then blow up out of Inception, it's very gratifying to see Tom Hardy's career explode in front of our eyes. Do you think he will have time in his schedule to star in this film and do you even think it's a good idea?