Warner Bros. Picks Up 'ACME Warehouse' Pitch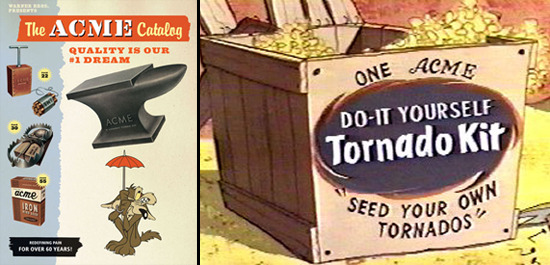 Warner Bros. is finally getting back to exploiting the studio's huge stable of animated stars. But is that a good thing? There's a live-action/CGI hybrid Bugs Bunny film in the works, and a Pepe le Pew film with Mike Myers planned as the voice of the romantically aggressive little skunk. And now the studio has bought a pitch for a film that would revolve around the ACME Warehouse, which supplied so many powerful, misused gadgets to Wile E. Coyote and other characters over the years.
THR says that Kevin and Dan Hageman sold the original pitch to WB, and that the idea was developed with producers Dan Lin and Roy Kell, with the idea of "[building] a franchise out of the Warner property."
In other words, just like Fox has the Night at the Museum movies and Disney is mulling a similar Magic Kingdom film, Warner Bros. could have just bought a setup that would allow the studio to craft lightweight family-oriented comedies around a place, rather than a person. We don't know if this would be live-action or animation, or a hybrid. (The latter is most likely.)
And this might never go anywhere, though since the deal was reportedly in the middle six figures I'd be surprised if it was buried completely. Could this be worked into a Bugs Bunny film? It's easy to imagine a physical comedy based around the simple idea of the warehouse packed with dangerous rocket skates and Do-It Yourself Tornado Kits. It might not even have to involve any of the Looney Tunes characters, though given the option to do so, why not? The movie might even be funny, if done with enough imagination and irreverence.