Michael Mann Eyes Next Feature Film: 'Big Tuna' Or 'Agincourt'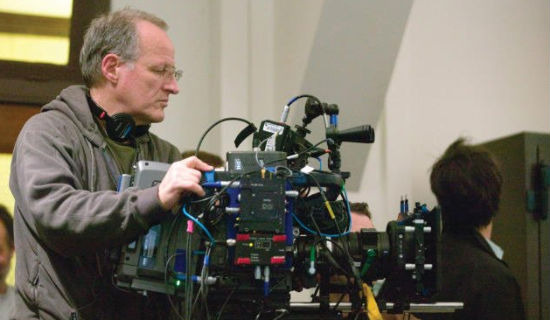 No matter which film director Michael Mann decides to do next, we, the audience, are the winners because each sounds magnificent. Since releasing Public Enemies, Mann has been working on the upcoming HBO series Luck with Dustin Hoffman and Nick Nolte but, once he's done with that, he'll most likely pick between directing a gangster movie or a period epic.
The gangster film, called Big Tuna, is about elderly Chicago mobster Tony Accardo and his young successor Sam Giancana while the epic, Agincourt, is about a fugitive whose archery skills catapult him into romance and war during the time of Henry V. Read more about all three projects after the break.
The Financial Times did a very in depth interview with Mann about the upcoming HBO show, set in the world of Los Angeles horse racing, which is scheduled to air late 2011 or early 2012 . In the piece, he talked about Big Tuna, Agincourt and more.
Mann, who grew up in Chicago, had the following to say about returning home with Big Tuna:
Here's an older man who was the undisputed boss at a time when the Chicago outfit was the most powerful crime element in America. It becomes a classic tragedy of megalomania and hubris.
Agincourt is based on a novel by Bernard Cromwell, in which Mann became interested after visiting the La Sainte-Chapelle in Paris. The screenplay is being written by Michael Hirst (The Tudors, Elizabeth). Here's a description of the story, according to Deadline:
[It] focuses on a young man with a death sentence on his head who is saved when his skills with the bow catch the attention of King Henry V. The archer develops into a warrior and falls in love with a young woman whose virtue he saved from a lecherous priest, and he becomes the portal to the bloody Battle of Agincourt, made famous by Shakespeare's Henry V.
In addition to those projects, Mann also owns the rights to the story of war photographer Robert Capa who covered five different wars and co-founded the world's first freelance photography organization, Magnum Photos.
Out of all three of those projects, which do you most want to see Mann helm post-Luck? And yes, I'm well aware I missed several obvious a Jim from The Office jokes (Big Tuna), but our friends at The Playlist beat me to it.