'Back To The Future:' Behind The Scenes Game Videos And 3D Art Print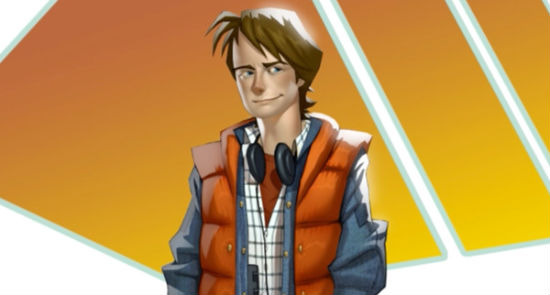 Today, October 25, is the day it all began. This morning 25 years ago, Marty McFly snuck into Dr. Emmett Brown's lab and blew out the speakers at the start of Back to the Future. To celebrate the occasion, the film is screening at several AMC Theaters this evening, the trilogy comes out on Blu-ray Tuesday and several featurettes focusing on the upcoming Back to the Future game have appeared online. The first one includes brand new concept art, rough game footage and explains the story of the game, which starts six months after the end of Back to the Future Part III. The second video focuses on the man who was hired to play Marty McFly in the game: A.J. LoCascio and the third video about "building the game" goes into more detail about story with even more concept art including Young Doc Brown. You can see the videos, plus an awesome new piece of Back to the Future art, after the jump.
Let's start with the print first. Nakatomi Inc. just released an awesome new print by Jacob Borshard called Darth Vader, the Extra-Terrestrial from the Planet Vulcan! It's available in both classic Fifties 3D as well as standard 2D over at Nakatomi. They are limited to editions of 55 and 88 respectively and cost $25. Click here to buy.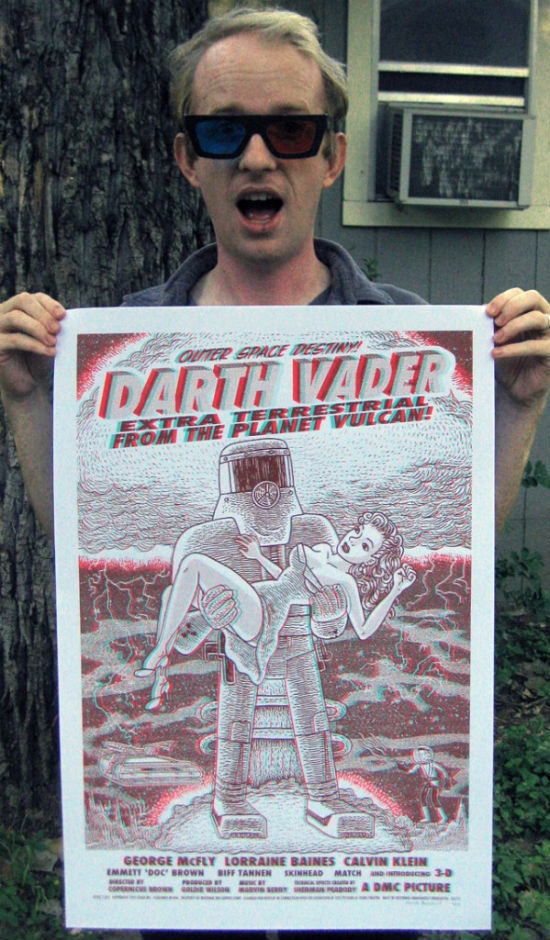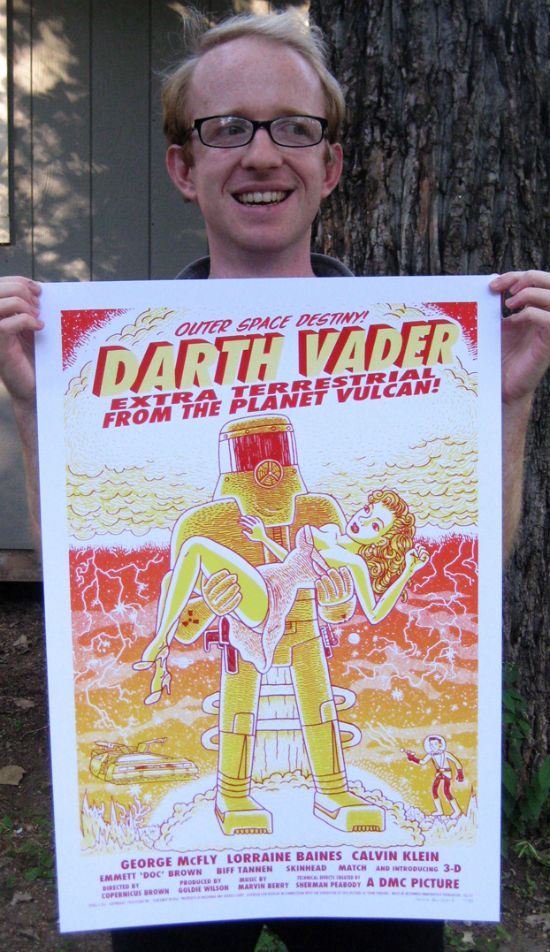 Then, here's part one of the Back to the Future video game series called Behind The Scenes. Thanks to Game Trailers as well as Badass Digest for the heads up.
And here's part two called Hey McFly. And for anyone who is thinking "Why didn't they just get Michael J. Fox?" well, he did allow the game developers to use his likeness, he just "wasn't available to do voicework," so they got A.J. LoCascio instead. Just watch.
Here's the third video all about Building the Game.
The game is scheduled for "This Winter" and the trailer will world premiere on Spike TV on December 2. What do you all think of the prospects of this game?