Meg Ryan, 50 Cent And Kat Dennings Cast In 'Lives Of The Saints'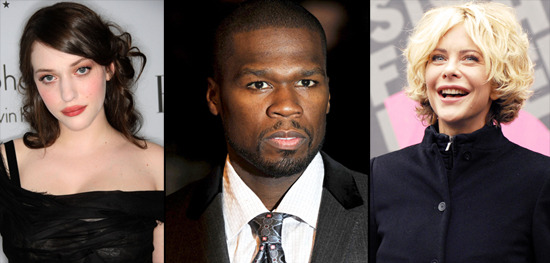 Briefly: Here's your WTF cast of the week: the indie drama Lives of the Saints is about to shoot next month with the following cast lined up:  Meg Ryan, Curtis "50 Cent" Jackson, John Lithgow, Joe Anderson and Kat Dennings. The picture follows "intertwining story lines about a group of Angelinos seeking redemption for past mistakes," according to THR.
Chris Rossi wrote and will direct the film, and I can't wait to see how these various actors' storylines will actually intersect. Visions of Crash float into mind. (The bad one — the Paul Haggis film — that is. I'll never get over having to distinguish between that and the David Cronenberg movie.) Perhaps we can get a special edition DVD that allows viewers to select only specific storylines featuring the actors they like? I'd choose John Lithgow and Kat Dennings, but that's probably obvious.