Exclusive First Look: J. Michael Straczynski's 'Superman: Earth One'
We may receive a commission on purchases made from links.
Everyone is talking about the recently announced Christopher Nolan-produced David Goyer-written Zack Snyder-directed Superman film project, which will set place during Superman's "early days" with a story which is rumored to follow journalist Clark Kent who is traveling the world "trying to decide if he should, in fact, even become Superman." This week DC Comics will release a new Superman graphic novel which, while not AT ALL related to the upcoming film, will give "new insight into Clark Kent's transformation into Superman and his first year as The Man of Steel."
Titled Superman: Earth One, the graphic novel is written by J. Michael Straczynski, who is best known as the creator/writer of the popular tv series Babylon 5, screenwriter of Clint Eastwood's Changeling, James McTeigue's Ninja Assassin, and he even has a story credit on Marvel's upcoming big screen adaptation of Thor. Over the years he has written for such television series as He-Man, She-Ra, The Twilight Zone, The Real Ghost Busters, and Murder She Wrote. This is the first in a new wave of original DC Universe graphic novels featuring top writers' and illustrators' unique takes on DC characters.
This is a Superman for the 21st century. With SUPERMAN: EARTH ONE, Straczynski and Davis inject the folk tale and legend that is Superman's origin with a modern, vital and forward-looking energy that makes for a refreshing, epic and challenging super-hero adventure. In SUPERMAN: EARTH ONE – the first original graphic novel retelling Superman's origin — Clark Kent is a man looking for meaning in a new city and an age of failing newspapers, hand-held devices and instant gratification. But when you can fly through the sky and burn objects with a glance – things become a tad more complicated. Doubly so when a fleet of alien ships arrive on your doorstep. SUPERMAN: EARTH ONE channels the best tales of Superman with a look toward the future, by two of the brightest talents the industry has to offer.
The new 136-page hardcover graphic novel will be released in comic shops this coming Wednesday and bookstores the following Tuesday (buy in on Amazon for $13.49) and features artwork by Shane Davis (Superman/Batman: The Search for Kryptonite. But DC Comics has given /Film an exclusive sneak peek into the first few pages of this new graphic novel series before it his the shelves.
According to Wikipedia:
JMS wanted to retell the beginnings of Clark Kent coming out as Superman, but bring in the thoughts of what-if Clark thought of becoming something else instead of being a superhero. As JMS stated; "he could have been rich as an athlete, researcher, any number of things. There's a flashback scene to when Martha Kent finishes his uniform and gives it to him as a gift, hoping he'll go that way. He looks at it and says, in essence, "Shouldn't there be a mask?" She says no, that "when people see how powerful you are, all the things you can do, they're going to be terrified... unless they can see your face, and see there that you mean them no harm. The mask... is that what you're going to have to wear the rest of your life." Among his ideas; the villain featured will be brand new, and have a connection to Krypton to explain its destruction. Shane Davis's approach was to remove all the stereotypes associate with the design of Clark Kent, both in his civilian and superhero identities. As a 21 year old male in the book, Davis had Clark wear layers of clothing, showing that he is trying to blend in; "he doesn't want to stand out" as said by Davis. This of course strayed away from the classic Clark Kent look, wearing the suit, tie, and glasses, since it "didn't make sense" to Davis. He also re-imagined Metropolis. Historically depicted as an art-deco expanse, Davis designed it to look and feel like a more realistic place.
Here is the /Film exclusive first look:
#gallery-1 {
margin: auto;
}
#gallery-1 .gallery-item {
float: left;
margin-top: 10px;
text-align: center;
width: 50%; }
#gallery-1 img {
border: 2px solid #cfcfcf;
}
#gallery-1 .gallery-caption {
margin-left: 0;
}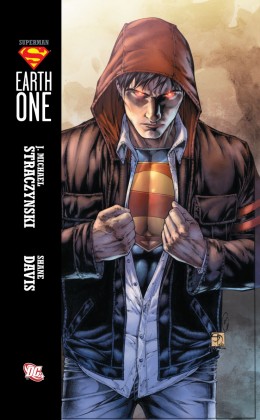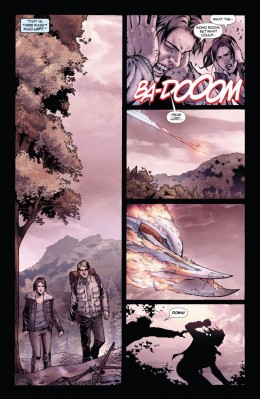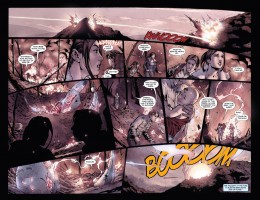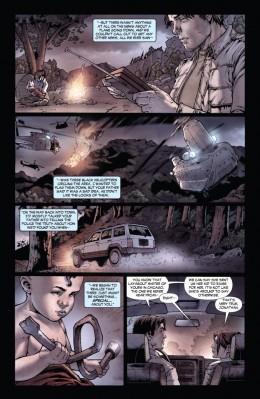 Here are a few more images from later in the comic: