Casting Notes: Téa Leoni In 'Tower Heist'; Lea Michelle In 'New Year's Eve'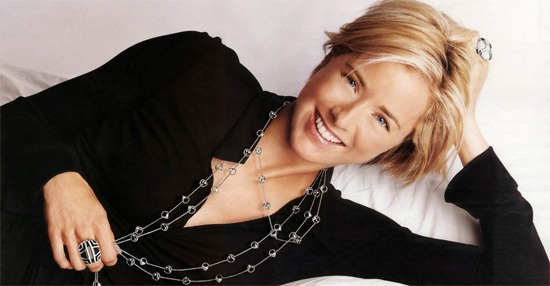 Brett Ratner's new movie, the thriller/action/comedy Tower Heist, is prepping to shoot in November in New York City. The cast is enough to earn at least an interested glance: Ben Stiller, Eddie Murphy, Alan Alda, Gabourey Sidibe and Michael Pena. Now there are two new additions: Téa Leoni and Nina Arianda.
Jeff Nathanson is currently rewriting the Ted Griffin script that got this picture moving. It's about a group of employees in a big NYC building who set out to rob the fat cat living in the penthouse when they learn he's plundered their pension fund. I'll refer back to our last casting note on the movie for my general thoughts: I like the cast and want to see Eddie Murphy do a movie that doesn't suck, so I'm rooting for this one. Even if prevailing opinion has pre-decided that it'll be a waste of time, thanks to Brett Ratner. But it's a heist movie, after all, which is my key weakness. [Variety]
After the break, Glee's Lea Michele hits the big screen.
The big news about the kids from Glee of late has revolved either around their Rocky Horror Picture Show homage or, more likely, their tarted-up appearance in a GQ photo shoot. Let this be a lesson about casting 20-somethings in roles has high school kids. They're likely to look hot in photo shoots. If that's somehow a bad thing, then cast more high school shows along the lines of Freaks & Geeks. Come to think of it, just cast more high school shows along the lines of Freaks & Geeks, ok?
Regardless, Lea Michele is reportedly likely to make the jump to the big screen in New Year's Day, which will act as the sequel to Valentine's Day, the ensemble romantic comedy that banked well earlier this year. This spin-off will likely again be directed by Garry Marshall, with Katherine Fugate reprising her role as screenwriter.
Valentine's Day had a huge cast: Jessica Alba, Bradley Cooper, Anne Hathaway, Patrick Dempsey, Hector Elizondo, Jamie Foxx, Jennifer Garner, Topher Grace, Ashton Kutcher, Taylor Lautner, George Lopez, Queen Latifah, Julia Roberts and Emma Roberts. We don't know which, if any, will return. But that's because the script isn't finished and the film isn't greenlit. [Variety]