Meryl Streep, Oprah Winfrey And Sandra Bullock To Star In Comedy From 'Sex And The City' Writer/Director Michael Patrick King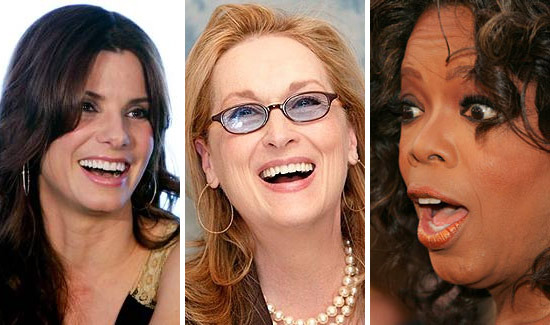 The scathing reviews of Sex and the City 2 haven't fazed writer/director Michael Patrick King, who's already scored a big name, crowd-drawing cast for his next vehicle. More surprisingly, the movie didn't faze these actresses, all of whom hopped on board without a moment's hesitation (or even a script). Starring in King's not-yet-titled comedy project are Meryl Streep, Oprah Winfrey and Sandra Bullock. It's "an ensemble comedy set in the world of a Home Shopping-type network, where characters make their way through the maze of mania that surrounds marketing, marriages and the media".
There's a gay joke to be made here. I'm not going to use it. Moving right along.
Deadline reports the casting, along with a response from King himself.
I came up with the idea of writing for Meryl, Sandy and Oprah, and it became so specific to them that I wanted to be sure I had interest from these ladies. I put it in front of each of them and they all said yes. To have access to these women, tell them this story and hear yes was almost like a Greek mythological journey, with me going from one goddess to the next. It was humbling. They're all unique, and the idea of writing parts that three strong women will play is such a challenge. Their body of work is beyond reproach. It's also appealing to craft a character for Oprah to come back and play that's not Oprah.
How cute. The guy who gave his catty, materialistic, self-obsessed female protagonists lines like "We've got a lot of Abu Dhabi to do. Abu Dhabi doo!", and then proceeded to have them sing "I Am Woman" during a karaoke session and engage in heavy petting in public, all the while blaming sexist men for their problems and brazenly offending other cultures, is talking about writing strong women characters.
In fairness to Michael Patrick King, he was responsible for writing every season premiere and finale of the Sex and the City series before bringing it the big screen, and though I only have a passing familiarity with the show, I've heard it evokes a complexity, intelligence and wit that was all but lost in the films. So I'm not resistant to the idea that his next picture could end up being good. I doubt it's something that will appeal to me, but hey, women deserve good movies, too.
Now that King has gotten the thumbs up from his cast of leading ladies, he's going to start work on the script immediately. Actress availability has been raised as a concern, but the plan for now is to try to get the film into production by next summer or fall. Scott Stuber (Battleship, Your Highness, The Wolfman) will produce.