Steven Spielberg Will Direct 'Robopocalypse'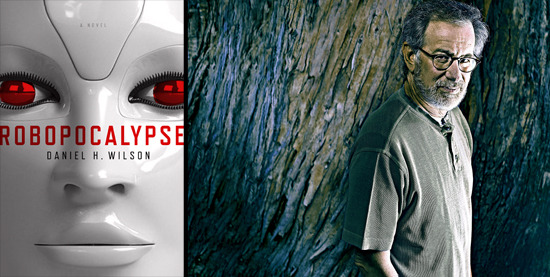 Steven Spielberg has committed to his directorial follow-up to War Horse. He'll next make Robopocalypse, based upon the forthcoming Daniel H. Wilson novel of the same name.
Deadline says the picture will shoot starting in January 2012 and Touchstone will release it in 2013. This will be good news for anyone who has wanted to see a big, explosive sci-fi film directed by Mr. Spielberg, as the project has a pretty simple logline: it is about "the human race's attempt to survive an apocalyptic robot uprising."
This is a project the director has been circling in some capacity for a while. Dreamworks bought the rights to the book about a year ago, hired Cloverfield screenwriter Drew Goddard to write a draft in March, and Steven Spielberg has been mentioned as a possible director since then. The last time the conversation flamed up was in late September.
The book isn't yet published — street date is June, 2011 — and it wasn't even finished as Mr. Goddard was writing the script. Deadline says that as Daniel Wilson was turning in pages of his novel draft, they were immediately being transformed into screenplay pages and storyboards at Dreamworks.
Reliance co-president Mark Sourian says,
Robopocalypse embodies an imaginative story of a robot rebellion unleashed against the human race...This is a project we immediately sparked to and with Steven directing it we knew it was in the best possible hands to bring it to worldwide audiences.
After a couple years of light activity, Steven Spielberg is getting busy once more. He's got Tin Tin: The Secret of the Unicorn (from which we've seen essentially nothing) set to release on December 23, 2011, and War Horse set for five days later on December 28, 2011. Guess this means that Bee Gees biopic isn't happening, right? As if there was any chance...
Previously, from Peter:
Robopocalypse won't be a hugely fantastical tale of the robot uprising, but aims to be more realistic. Wilson has a background in robotics and artificial intelligence which Doubleday Executive Editor and Vice President Jason Kaufman claims "grounds his story with a frightening level of realism and he has created an exhilarating story that we think audiences will really respond to." Wilson has a Ph.D. in robotics from Carnegie Mellon University's Robotics Institute, is a contributing editor to "Popular Mechanics," and hosted a show on the History Channel called "The Works." So yeah, expect something a lot more realistic than Transformers or Terminator Salvation.
You might recognize Wilson's name as his name is all over a bunch of those novelty survival guide books, including the 2005 book "How to Survive a Robot Uprising: Tips on Defending Yourself Against the Coming Rebellion," which was optioned by Paramount Pictures, and "Where's My Jetpack?: A Guide to the Amazing Science Fiction Future That Never Arrived," "How To Build a Robot Army: Tips on Defending Planet Earth Against Aliens, Ninjas, and Zombies," and "The Mad Scientist Hall of Fame: Muwahahaha!"