Jerry Bruckheimer On X-Men: First Class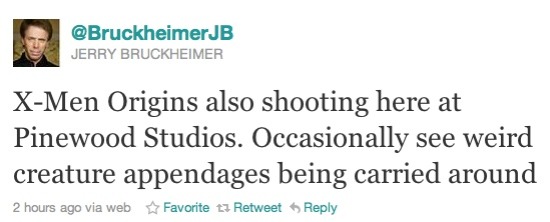 This isn't necessarily news, but I thought it was worth sharing... Pirates of the Caribbean: On Stranger Tides is currently shooting at Pinewood Studios, the same lot where Matthew Vaughn is shooting X-Men: First Class. Super mega producer Jerry Bruckheimer (Pirates) tweeted a "set report" earlier today:
"X-Men Origins also shooting here at Pinewood Studios. Occasionally see weird creature appendages being carried around."
Weird creature appendages? Interesting and exciting...