Ben Stiller To Produce 'Zoolander' Animated Web Series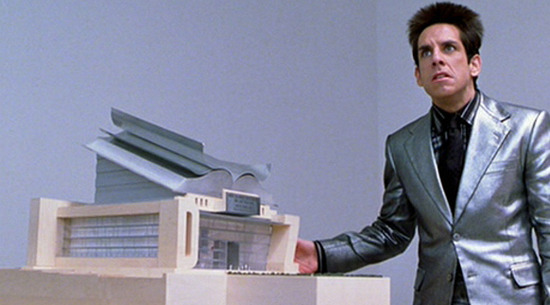 Hansel might be so hot right now, but it's Derek Zoolander who is making a comeback. Ben Stiller's Red Hour Films has signed a two year deal with Paramount Digital Entertainment to create web content including a Zoolander animated series and a live action series called Billy Glimmer: Entertainer of the Century, both starring Stiller. The 2001 film Zoolander has evolved into something of a cult classic and fans have been clamoring for a sequel, but while Stiller said that these projects could grow into television shows or feature films, for now, they will live on the Internet. Find out more after the break.
The New York Times ArtsBeat spoke to Stiller about the deal which, according to Paramount, is the first to feature an A-List actor signing with a studio to do exclusive web content. "It's just a way to say, 'Hey, let's go do a couple of little five-minute episodes,'" Mr. Stiller told the Times, "as opposed to saying, 'Hey, let's pitch it to the studio and then let's have a fight over the budget for six months.'"
Stiller also said that he hopes both of his Zoolander co-stars, Owen Wilson and Will Ferrell, will join him in providing voices for their animated characters. We know for sure that Ferrell is comfortable working on the Internet, he's one of the founders of Funny or Die and appears on the site regularly. "You don't want to have the guy who did the Hanna-Barbera cartoons come and do the voices," Mr. Stiller said. "No offense to the Hanna-Barbera cartoons – I'm a huge Scooby-Doo fan."
Obviously, for film fans, the Zoolander shorts are the main event but in the end it could be Billy Glimmer: Entertainer of the Century that has the most laughs. Stiller has already shot a pilot episode of the series which is about a "mid-level voice impersonator out of Las Vegas" It's directed by Jason Woliner and features Rob Huebel, both of Human Giant.
Paramount hasn't yet decided where the Stiller shows will be hosted, but they said it will most likely be one of the bigger web portals such as MSN, AOL, Yahoo! or Hulu.
For any Zoolander fans out there, does this seem like an appropriate way for the character to live on? After all, it did start as a TV spoof, not as a movie, so maybe it evolving to the web is the way it was meant to be. Thoughts?