This Week In DVD & Blu-Ray: Predators, Please Give, Disneynature: Oceans
We may receive a commission on purchases made from links.
This Week in DVD & Blu-ray is a column that compiles all the latest info regarding new DVD and Blu-ray releases, sales, and exclusive deals from stores including Target, Best Buy and Fry's.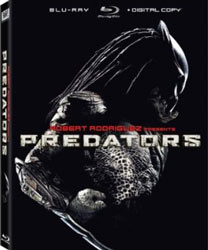 PREDATORS
There's a shot in the trailer for Predators that epitomizes my primary frustration with the film. Some of you will know the shot I'm talking about: it features over a dozen targeting lasers from Predators being locked onto a terrified Adrien Brody, in turn promising a mass heap of Predator carnage already implied by the film's title. I won't spoil how the scene plays out in the actual film, but I will say this: the trailer is bullshit, and so is producer Robert Rodriguez's defense of it. Rodriguez doesn't seem to realize that setting up an epic showdown and then failing to deliver on it is the exact opposite approach an action movie should be taking. And that, to a large extent, sums up the entire film: a whole lot of badass teasing and posturing, but not much in the way of satisfying payoff. The film is still serviceable B-movie fun, thanks in large part to an appealingly diverse band of characters (backed by Adrien Brody believably playing against type as a rugged commando), and some nicely atmospheric lightning and handing of action sequences by underrated genre director Nimród Antal (who makes the most of the film's somewhat low budget), but it's not nearly the movie it could've been.
Available on Blu-ray? Yes.
Notable Extras: DVD – An audio commentary by Robert Rodriguez and director Nimrod Antal, Motion Comics, and a De-cloaking the Invisible: Alien Terrain featurette. Blu-ray – Includes everything on the DVD, as well as 2 additional featurettes ("The Chosen", "Fox Movie Channel Presents Making a Scene"), deleted and extended scenes, and a digital copy of the film.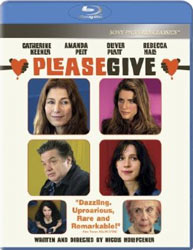 PLEASE GIVE
Please Give is a slight film in terms of plot, but through its depiction of the day-to-day life of the characters of its ensemble cast, it paints an effective portrait of modern American urbanite women with thoughtfulness and raw honesty. Cunningly written and acted, the film uses age and social standing as a means of examining how to bridge the moral contradictions one faces in life, and understanding the value of something beyond a level of appearance and artifice. Writer/director Nicole Holofcener (Friends with Money) thankfully never spells out what the movie's themes are or how you should feel about them, instead allowing audiences to judge the character's actions however they choose. Is it silly that Catherine Keener's bleeding-heart Kate guilt trips herself out of enjoying her good fortune, which is built by buying and reselling furniture from the children of dead people? By trying to make amends by constantly giving money and food to every homeless man she passes, does that make her a good person? What makes a good person, anyway? These are the sorts of questions that drive Holofcener's fourth feature effort, and the intelligence with which she posits them show that she only continues to grow as a filmmaker. And lest this review make you think the film is nothing more than a stuffy indie drama, the trailer gives a pretty good sense of the film's enjoyable, off-the-cuff rhythm.
Available on Blu-ray? Yes.
Notable Extras: DVD & Blu-ray – Two featurettes.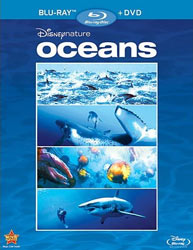 DISNEYNATURE: OCEANS
Early in Oceans, there's a majestic and thrilling sequence featuring dozens of dolphins soaring in and out of the ocean while seagulls plummet into the sardine, shark, and whale-infested waters below. Like the rest of the film, it is a stunningly photographed display of marine life that's almost unreal in its beauty; truly a wonder to behold. Also like the rest of the film, I learned absolutely nothing about what was going on in the sequence other than what could be gleaned from the imagery itself. As calming as Pierce Brosnan's voice is, his narration serves only to provide cutesy dialogue to accompany the sights and sounds. Unlike some other recent nature docs, there's no narrative in Oceans; no segments that yield insight into the complex inner-workings of the life of any specific creature. Instead, Oceans could be better described as a series of brief animal interactions, moving steadily from one fascinating life-or-death struggle to the next. The documentary remains well worth seeing for the breathtaking imagery, but don't expect it to be a particularly informative experience.
Available on Blu-ray? Yes.
Notable Extras: DVD & Blu-ray – None.
Other noteworthy DVD (and Blu-ray) releases this week...
Night of the Demons [DVD / Blu-ray] – Until the Light Takes Us [DVD / Blu-ray] – Harry Potter and the Prisoner of Azkaban (Ultimate Edition) [DVD / Blu-ray] – Harry Potter and the Goblet of Fire (Ultimate Edition) [DVD / Blu-ray] – Shaun the Sheep (Season 1)
Noteworthy Blu-ray-specific releases this week...
Apocalypse Now (Three-Disc Edition) – The Rocky Horror Picture Show (35th Anniversary Edition) – Seven Samurai (Criterion Collection) – Psycho – Moulin Rouge! – Romeo + Juliet

NOTES: Some deals may vary by store. Some deals may be in-store only. All deals are for DVDs unless otherwise noted.

Exclusive: Free movie coupon to Harry Potter and the Deathly Hallows Part 1 when you buy Harry Potter Ultimate Edition Year 3 or 4. Up to a $7.50 value.
$17.99 – Entourage (Season 6)
$10 – Blu-ray sale: Dracula, The Dark Knight, The Lost Boys, Underworld

$4.99 – Jackass Number Two, American History X, The Shawshank Redemption

$9.99 – Blu-ray sale: Bull Durham, Escape From New York, The Illusionist, Mad Max