Bruce Willis Wants To Make Two More 'Die Hard' Films, Then Step Away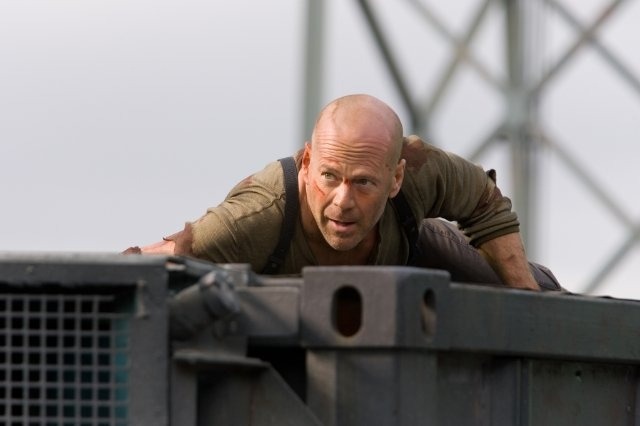 Every time Bruce Wills is out promoting a new movie, he knows he's going to get asked about Die Hard. And every time he gets asked about Die Hard, he doesn't disappoint. While promoting Cop Out earlier this year, Willis claimed that "I think we're going to do a Die Hard 5 next year." Now, Willis is out schilling for Red and he added to that statement saying, "I want to do Die Hard 5, then one final Die Hard movie — Die Hard 6 — before finally hanging that white vest up for good. At the moment, I can run and I can fight on screen. But there will come a time when I no longer want to do that. That's when I'll step away from the Die Hard films." We've got more after the jump.
Willis was speaking to Showbiz Spy when he talked about the possibility of a sixth Die Hard (Thanks to FirstShowing for the heads up). In the interview, he also said that in today's culture it would be easy for producers to replace him or just continue the franchise with another character and that's why he'd like to get at least two more under his belt while he's still able.
Getting away from fairy tale land and back to the trenches of Hollywood, back in May Skip Woods (Hitman, The A-Team) was reportedly hired to write a script for a fifth Die Hard but that was the last we heard. Now, The Showbiz Spy article says that Willis "is currently filming his fifth film playing action hero John McClane" but that's most likely a misprint. According to his IMDB page, Willis is currently working on a film called The Cold Light of Day so after that, maybe he could fit in another Die Hard, but it's not like the actor is ever at a loss for acting work.
As a fan of the first three Die Hards, I'll say that anything would better than the fourth one, which totally went against what Die Hard is all about. Peter did a great job talking about it a while back. Die Hard is about one man in a tight space, against the world. He's not a superhero, he's just a guy. The third film, Die Hard With A Vengeance, might have made the tight space a little bigger – New York City – but John McClane was still the same. Live Free or Die Hard had him leaping off of jets. That's not Die Hard, that's Superman. It's almost as if they made a Terminator movie where you totally throw out the formula of the first few films. Oh, wait, they did that. So no matter if they make Die Hard 5, 6, 17 or 24/7, as long as they stick to what made the franchise great, I'm there.
Do you want to see another Die Hard, let alone two? And who, if anyone, could slip into McClane's ripped t-shirt?