VOTD: Will Ferrell And Adam McCay Roast The IMDB On Its 20th Anniversary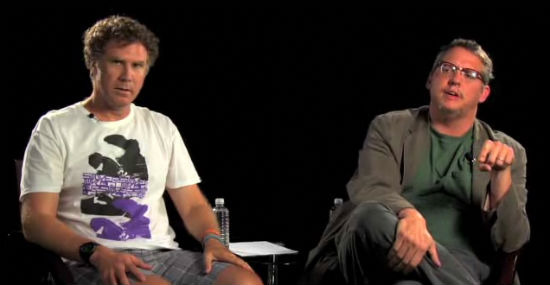 This week marks the 20th anniversary of the Internet Movie Database. The single greatest free movie resource in the history of the world has, incredibly, been alive and kicking since October 17, 1990 and to celebrate, the site has been interviewing some of the biggest stars around about film culture, their favorite movies and more. People such as Kevin Spacey, Josh Brolin, Oliver Stone, and Susan Sarandon all sat down in celebration of this momentous occasion and on the actual anniversary, the IMDB orchestrated a funny chat with Adam McCay and Will Ferrell, two of the guys behind Funny or Die as well as films like Anchorman: The Legend of Ron Burgundy and The Other Guys. We've got the video and a little ode to the IMDB after the break.
Here's the Ferrell/McCay video, embedded for your pleasure.
In addition to that, the 20th anniversary page over at the IMDB is worth checking out too. They got tons of best of lists from the last 20 years as well as all the videos mentioned above and much, much more. It's really cool to visualize how much life has changed from 1990 to 2010.
When I was old enough to get a work permit, I began working at a video store in my hometown of Monroe, NY. One of the greatest resources we had there was the annual Leonard Maltin Movie Guide, simply because if someone had a question like "What's that movie with Richard Pryor and John Candy with the money?" and we couldn't answer if off the top of our head (which, even at 14, I could) we could just look up both actors, cross reference and, boom, Brewster's Millions.
At the time, we had Internet but rarely used the slow dial up service and had no idea that there was a resource out there that would make soon make books like that obsolete. Years later, when I was in college and discovered the IMDB, it became a must bookmark, near daily place to visit whether I needed to check spellings, character names or release dates. To this day, I go there at least once every single day. With my work in the video store, I know that life as a film fan was possible before the IMDB but now that I have it, I can't imagine life without it.
Want an example of how thorough the IMDB is? I was able to sneak myself on it in college because I produced a short film with a professional director of photography. Sure the film never got finished and I went on to criticize most people on the site rather than join them, but the IMDB is so well put together that it accounts for almost everything in a person's career. It truly is an invaluable resource.
So, happy 20th anniversary Internet Movie Database. May all your entries be complete and spellings correct.