John C. Reilly Joins Roman Polanski's 'God Of Carnage'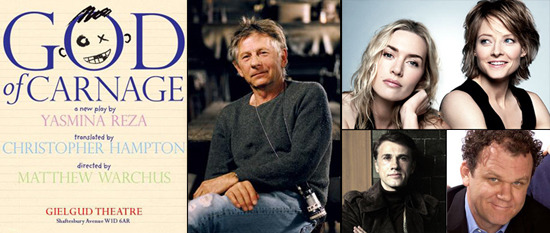 The last time we checked in on God of Carnage, the adaptation of Yasmina Reza's award-winning play to be directed by Roman Polanski, there were new cast additions and one minor casting mystery. The additions were Jodie Foster, Kate Winslet and Christoph Waltz, who were all set to play three of the play's four major characters.
The mystery was Matt Dillon, who was initially reported as part of the cast before his named was scrubbed from articles like the one at Deadline. Now we know the reason: Mr. Dillon wasn't quite cast, and now the role that might have been his has gone instead to John C. Reilly.
That puts Jodie Foster, Kate Winslet, Christoph Waltz and Mr. Reilly as two New York couples who are led by their kids into a  night of tearing each other (metaphorically) to pieces. Mr. Reilly will play Michael, the husband of Jodie Foster's character, which puts Kate Winslet and Christoph Waltz together as a very interesting pair.
Here's the synopsis:
The play is about two pairs of parents, one of whose child has hurt the other at a public park, who meet to discuss the matter in a civilized manner. However, as the evening goes on, the parents become increasingly childish, resulting in the evening devolving into chaos.
I'll admit: I was slightly more curious about this when I thought Matt Dillon was in the cast. In part that was because he seemed to be the odd man out. Mr. Dillon is certainly capable of acting on the same level as the other actors, but he's asked to do so on an irregular basis. Putting him in what amounts to a pressure cooker with that cast and Roman Polanski seemed like a recipe for something really delicious. If he nailed it, things would be so good.
John C. Reilly is, of course, a particularly competent actor. While in the past couple years he's been given to comedy more than anything else, he's also very able to generate the sort of venom I think this job will call for. That will be a refreshing thing, no doubt. Once we see footage I expect I'll be convinced, but this is one moment where I can't help speculate about how things might have been different. [Deadline]