Weinsteins Aiming For PG-13 'Hellraiser' Remake For Teens? Christian E. Christiansen Directing, With Amber Heard Starring?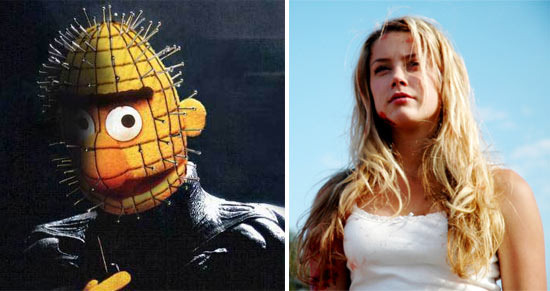 When Clive Barker had the extradimensional Pinhead strike terror into the hearts of his victims with the now iconic line "We have such sights to show you," I doubt a PG-13 rating is what he had in mind. But that appears to the direction that the Weinsteins are headed with their remake of Barker's classic horror tale, as indicated by a recent report claiming they're "looking for someone to make the franchise fitted for 'teens'".
Moreover, they have evidently found the guy for the job, and a leading gal as well. Learn more after the break.
Bloody Disgusting says the Denmark-born Christian E. Christiansen, a filmmaker who had already been in talks to direct the remake before plans fell through, is once again circling the film. This lines up with their claims of a teen-geared Hellraiser, as Christiansen is the director of the rather lame-looking upcoming PG-13 horror/thriller The Roommate, the trailer for which was released not too long ago.
For the lead the Weinsteins are reportedly looking at Amber Heard, the stunningly gorgeous actress of such films as The Stepfather, Pineapple Express, and All the Boys Love Mandy Lane, as well as the upcoming Drive Angry 3D and the horror/thriller remake And Soon the Darkness. Like Christiansen, she too validates news of the film's teen-oriented approach, having built her career primarily on horror/thriller fare intended for younger audiences.
Can't say I'm thrilled to see how the Weinsteins take a film about sadomasochism and turn it into something that the MPAA will deem appropriate for the 13-and-older crowd. Much (if not all) of the appeal of the Hellraiser series has been its uniquely demented imagery, and toning that down for a remake seems more than a little counterproductive.
The remake has been in the works for several years now, with many different (far more interesting) filmmakers being linked to the project during that time: Julien Maury and Alexandre Bustillo (Inside); Marcus Dunstan and Patrick Melton (Feast and the Saw series); and Pascal Laugier (Martyrs). In the meantime, there's another straight-to-DVD Hellraiser in the works—Hellraiser: Revelations—that was greenlit so the Weinsteins could retain the rights to the property.
Here's the trailer for the original film:
[Hellraiser Image Source: clarkblog]