Amy Adams, Rashida Jones And Chris Cooper Will Appear With Jason Segel In 'The Muppets'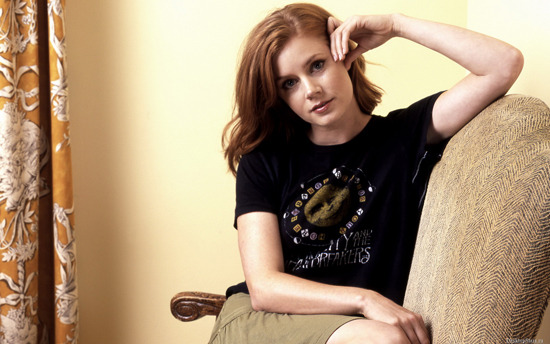 UPDATE: THR has Rashida Jones and Chris Cooper (hooray!) joining the cast as well. Mr. Cooper will play the villain.
Not long ago we heard that the rather popular Amy Adams was looking at a few different possible roles, one of which would be in the upcoming Muppet movie that Disney is assembling with Forgetting Sarah Marshall scribe/star Jason Segel and Get Him to the Greek/Sarah Marshall director Nicholas Stoller as co-writers Flight of the Conchords helmer James Bobin as director. Now it looks like Adams will take the role in what is apparently being called The Muppets.
EW says that Amy Adams is in final negotiations for the role, which would see her as " Jason Segel's girlfriend who joins him on a road trip to Los Angeles to the Muppet Studios." No other real details are in the short report, other than that production is set to begin in November.Previously, from Peter:The Cheapest Mupper Movie Ever Made was a reference to an old unproduced film idea by Jim Henson which involved Gonzo blowing the movie budget on the opening credits resulting in the remainder of the feature film being shot in the same back lot, clumsily redressed to look like different locations from around the world. The new film won't likely feature the same storyline, as Segel has said that his story follows the Muppets, who must unite to save the Muppet Theater from an evil oil tycoon. As it turns out, the old theater its on top of some black gold.
The film will be in the tone of the classic Muppet films like The Muppet Movie, The Great Muppet Caper, and Muppets Take Manhattan.
Segel will play the lead role, a human named Gary, whose best friend is the puppet bear Walter. Together they go on a journey with Gary's girlfriend Mary to defeat the evil Tex Richman, a man who doesn't find the Muppets funny and thinks he can smell oil beneath their studio. There are plenty of celebrity cameos written into the script (including Sean Penn) and Segel apparently got verbal commitments from most of the stars during the writing process.
Last note: way to bore us with the title. Let's hope The Muppets isn't final. The two possible titles that were thrown around at one point, The Cheapest Muppet Movie Ever Made and The Greatest Muppet Movie Ever Made, might have been unwieldy, but at least they had character. The Muppets is just reductive and dull. The Muppet Movie made sense as a title when that film was released, but give us something more playful this time, please.