Movie Trailer: 'All Good Things'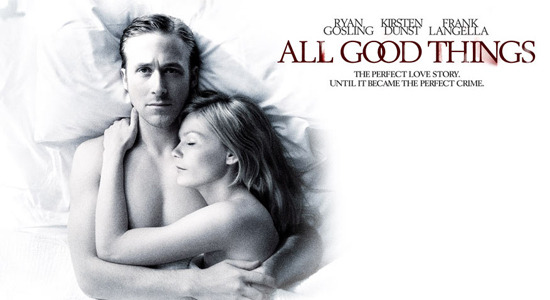 Andrew Jarecki made a great documentary, Capturing the Friedmans, but his first dramatic feature, All Good Things, has taken some time to hit screens. The Weinsten Company sat on it for a year, Mr. Jarecki bought the distribution rights from the company, and now Magnolia will release the picture this December. Here's the first trailer.
Some poorly-chosen music and bargain-basement editing tricks make this trailer look a lot more run of the mill than the film might be. But then, it did sit on the shelf for a year, and while the Weinsteins are wont to do that sort of thing, this is precisely the type of movie they would normally get out for awards consideration. So that, combined with this trailer, is worrisome.
If nothing else, it's nice to see Ryan Gosling on screens again. Between this, Blue Valentine and Nicolas Winding Refn's Drive, which is shooting right now, the guy seems to be everywhere.
(Edit: In the opening paragraph I originally, mistakenly said Andrew Jarecki made Why We Fight. That was actually made by his brother, and is also a great film.)
Apple offers the trailer in HD and delivers this synopsis:
Inspired by the most notorious missing person's case in New York history, ALL GOOD THINGS is a love story and murder mystery set against the backdrop of a New York real estate dynasty in the 1980s. Produced and directed by Andrew Jarecki (director of the Academy Award-nominated doc Capturing the Friedmans and producer of Catfish), the film was inspired by the story of Robert Durst, scion of the wealthy Durst family. Mr. Durst was suspected but never tried for killing his wife Kathie who disappeared in 1982 and was never found. The film stars Ryan Gosling, Kirsten Dunst and Frank Langella as the powerful patriarch, and captures the emotion and complexity of this real-life unsolved mystery.