Sharlto Copley, Alec Baldwin And Gemma Arterton In Negotiations For 'Men In Black 3'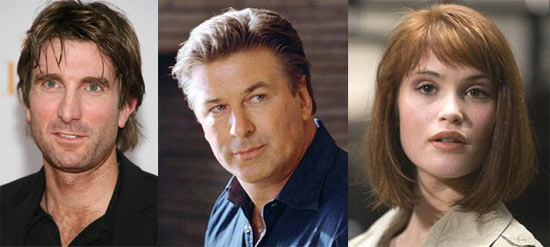 Filming is almost underway for Men in Black 3, the 3D sequel that will reunite Will Smith, Tommy Lee Jones and director Barry Sonnenfeld, but for those that still aren't on board, here's some last-minute casting to help get you in the mood.
The deals aren't finalized yet, but Sharlto Copley, Alec Baldwin and Gemma Arterton are all negotiating roles for the film, which finds Will Smith traveling back in time and teaming up with Josh Brolin as a younger version of Tommy Lee Jones' character K. Learn more about these actors' potential roles in the film after the break.
Though specifics of the plot have been kept under wraps, we do know that most of the action will take place in 1969, which lines up with the casting report from Pajiba. They list Baldwin as playing the '60s head of MIB to Emma Thompson's modern day MIB boss. (You might recall, Thompson was cast a couple of weeks ago.) Arterton will join Baldwin in the '60s as a secretary, which doesn't tell us much about the size of her role. Is she just a bit player, or might she serve as a love interest as well?
Sharlto Copley, meanwhile, will once again find himself on the opposite side of the species line, playing "a fast-talking Yoda type alien". (And with Copley having only starred in two films so far, that makes two out of three.) Again, details on the role are limited, so it's unclear if he'll be acting as a comedic foible for the MIB crew, or if he'll be joining Jemaine Clement as one of the film's villains. I'd love to see Copley opposite Clement, personally, as past reports have indicated that Clement's character Yaz is badass and violent, but not particularly humorous. Having Copley there to play off of would allow Clement an opportunity to still be funny (as the 'straight man') without compromising his character.
In any case, here's what little we know so far about the film's plot: The villainous Yaz (played by Clement) travels back in time to kill K, "which sets off a chain of events that ends in the destruction of the world." Enter Will Smith and Josh Brolin to save the day. And if we're lucky, there's a meaty part in there for Tommy Lee Jones, too, rather than just a glorified cameo.