Eddie Murphy To Star Alongside Ben Stiller In Brett Ratner's 'Tower Heist'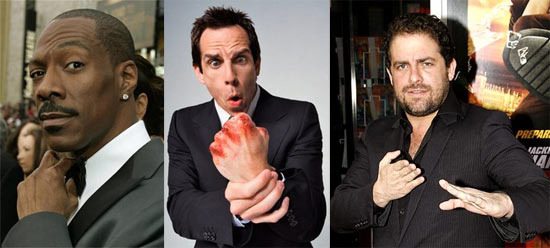 Before becoming Tower Heist, Brett Ratner's latest film was conceived as an urban version of Ocean's Eleven, with Eddie Murphy in the starring role. The title then was Trump Heist, and the original cast poised to join him included Chris Rock, Dave Chappelle and Chris Tucker. One title and casting change later, Murphy was out, Ben Stiller was in, and the studio's aspirations of making the film a "black Ocean's Eleven" were scrapped. This decision was affirmed by their hiring on Noah Baumbach—a filmmaker whose whiteness can be sensed in every frame and line of dialogue of The Squid and the Whale, Margot at the Wedding and Greenberg—to rewrite the screenplay.
And yet, here we are, right back where we started. Eddie Murphy is set to once again join the cast of Tower Heist. Learn more after the break.
According to Deadline, who reported the news, Murphy will be additionally serving as an executive producer on the film. The action comedy caper was originally intended to center around a bunch of employees of New York's Trump Tower who conspire to rip off the building's residents, but has since been altered. Instead of Trump Tower, the building is simply a luxury Manhattan high-rise, and instead of ripping off its residents, the gang of workers will commit the heist against a sole Wall Street crook who defrauded them of their pensions and is currently living under house arrest in a penthouse apartment. Playing the villainous Bernie Madoff-like figure is Alan Alda, whose casting was announced just last week.
The Hollywood Reporter expands on Murphy's character in the film, describing him as "a safe-cracking thug who may or may not betray Stiller and his gang". This could actually prove to be a far more interesting role for him than the lead—Murphy's always been best when his characters have a bit of an edge to them, and considering the direction Universal has decided to take the film, I doubt that's something they would've wanted for the role now filled by Stiller. Now if only they'd get Dave Chappelle back into the mix...