Steven Spielberg's 'War Horse' To Be Released Five Days After 'The Adventures Of Tintin'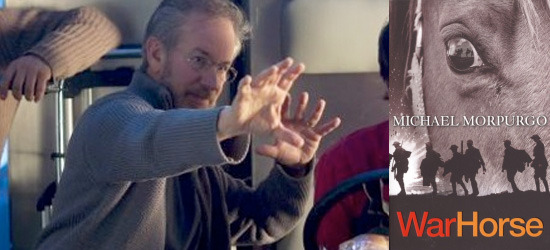 It's always feast or famine with that Steven Spielberg. He goes on stretches where he releases two films a year – like in 1993, 1997, 2002 and 2005 -  then there are long periods where he gives the director's chair a rest, like the last five years (I'm still trying to erase 2008's Indiana Jones and the Kingdom of the Crystal Skull from my mind so please forgive its omission.) Well, it seems 2011 is not going only to be a Spielberg feast, it's going to be a Spielberg explosion! Already scheduled to have two films hit during the calendar year, DreamWorks announced Wednesday that they've shifted his literary adaptation War Horse from its original summer release date back to the Christmas season, placing it within days of Spielberg's co-directoral effort The Adventures of Tintin: Secret of the Unicorn. Hit the jump for other release date shifts, including Real Steel, Fright Night 3D and more.
War Horse was scheduled to be released in August 2011 but, according to Deadline, DreamWorks saw some footage and decided "it felt 'like a holiday movie.'" Um, duh. Summer doesn't seem like the best time to release film about a World War I solider desperate to reunite with his horse. So the film, which stars Jeremy Irvine, Emily Watson, David Thewlis and others, is now scheduled to be released December 28, 2011. The New York Times was quick to realize that's a mere five days after the motion capture 3D film Spielberg and Peter Jackson have been working on for several years, The Adventures of Tintin: Secret of the Unicorn, is scheduled to hit theaters. That film stars Jamie Bell, Daniel Craig, Nick Frost, Simon Pegg and others.
Stacey Snider, the DreamWorks chief executive, told the Times that "We think there's room for a couple of holiday films during that season." DreamWorks will release War Horse while their partner, Paramount, will co-release Tintin with Sony.
Also on the DreamWorks conference call, they announced release dates for The Help with Emma Stone and Bryce Dallas Howard, that'll be on August 12, Shawn Levy's Hugh Jackman film Real Steel moved up from November to October 7 and Colin Farrell's Fright Night 3D is now scheduled to come out August 19.
Is the multiplex big enough for two Steven Spielberg films, even if they are radically different?