VOTD: Michael J. Fox Spoofs 'Back To The Future' Teaser For Spike TV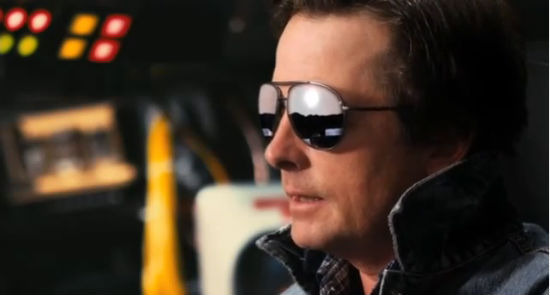 Next week, Spike TV will broadcast Scream 2010, an award show that honors "the best in sci-fi, fantasy, comics and horror." In addition to the world premiere of footage from Scream 4, Paranormal Activity 2 and The Rite, the show will feature a 25th anniversary reunion of actors from Back to The Future. To promote this momentous occasion, they've released a video of Michael J. Fox re-imagining a famous teaser trailer released for the 1985 film. The event itself, which shoots on Oct. 16 but airs Oct. 19 at 9 p.m., will feature Fox, Lea Thompson and Elizabeth Shue but the tags on the below video also list Christopher Lloyd, so consider his involvement a rumor. Click below to see the new video, the original video, and read more about both Scream 2010 and the Back to the Future 25th anniversary.
Here's the new video:
And here's the original teaser trailer that it's re-imagining:
How bad ass is that?
Though most of us mock award shows, especially ones on cable, the Spike TV Scream Awards are actually kind of fun. Sure they don't really mean anything, but you get to see awesome people and awards given in categories that we actually have something invested in. According to the press release, confirmed attendees, besides the Back to the Future crew, are Sir Anthony Hopkins, David Arquette, Neve Campbell, Hayden Panettiere, Emma Roberts, Wes Craven, Aaron Eckhart, Sigourney Weaver, Alan Ball, Sam Trammell, Kristen Bauer, Rutina Wesley and others.
As for the awards themselves:
SCREAM 2010 will present awards in 33 different categories.  Christopher Nolan's summer science fiction blockbuster 'Inception' leads the way with nominations in 14 categories, including 'The Ultimate Scream,' 'Best Ensemble' and 'Fight Scene of the Year.'  'Kick-Ass' was nominated in 13 categories for a total of 17 nominations, while Tony Stark's adventures in 'Iron Man 2' garnered 13 nominations.  HBO's 'True Blood' had the most nominations of any television series with 10.
Voting is open until Friday October 15 over at the official Spike website.
As for Back to the Future, Universal is surely doing right by a franchise that is beyond revered both here at /Film but also in popular culture. There's the upcoming Blu-ray release, a theatrical re-release, an impending video game and so much more. It feels like it's in the news everyday, most recently with the now mythic Eric Stoltz footage finally being released. You can be sure we'll continue to print all your BTTF news right here.
What do you guys think of the video? Does it make you want to watch Scream 2010?