This Week In DVD & Blu-Ray: How To Train Your Dragon, Jonah Hex, I Am Love, And More
This Week in DVD & Blu-ray is a column that compiles all the latest info regarding new DVD and Blu-ray releases, sales, and exclusive deals from stores including Target, Best Buy and Fry's.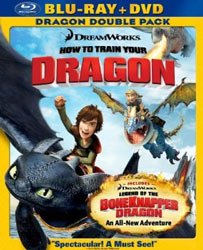 HOW TO TRAIN YOUR DRAGON
(Releases on Friday, October 15)
I don't love How to Train Your Dragon for its story, or its dialogue, or even its characters. I love it for one very specific reason: how it makes me feel. As sappy as that sounds, it's not half as bad as admitting that I can't listen to this song from the soundtrack without fighting back tears, the same way I do when I think about The Iron Giant closing his eyes and saying "Supahman" as he flies into space, or Fry's dog faithfully waiting at the end of that one goddamn episode of Futurama. In each of these instances is an example of manipulative storytelling executed incredibly well, prying on a base human desire to be loved by some innocent, misunderstood being as much as we love them. And you know what? It fucking works. How to Train Your Dragon is so masterful in the way it uses its dazzling visuals and rousing score to enrapture the audience, and so beautiful and heartfelt in the way it communicates its undeniably formulaic tale of forbidden friendship, that I couldn't help but be reduced to a weepy little bitch by the end of it. It may not be original, but through its earnest sense of discovery and adventure and positively stunning ability to recreate the sensation of flight, it amounts to one of the most fun, thrilling and emotionally gripping films to be released in years. For all of the reasons Avatar failed, How to Train Your Dragon succeeds, and I am not at all ashamed to say it resonated with me on a deeply personal level. I cannot recommend it enough.
Available on Blu-ray? Yes.
Notable Extras: DVD – Filmmakers' Commentary, The Technical Artistry of Dragon, and Viking-Sized Cast. Double DVD Pack – Includes everything on the single-disc DVD, as well as an all-new animated short ("Legend of the BoneKnapper Dragon"), Three Deleted Scenes, The Story Behind the Story, and How to Draw a Dragon. Blu-ray – Includes everything on the Double DVD Pack, as well as the Animator's Corner (featuring Picture-in-Picture storyboards, behind-the-scenes footage and interviews), a trivia track, and a copy of the DVD.
*Does not include Double DVD Pack with all-new short ("Legend of the Boneknapper Dragon"), which costs $17.99 at Best Buy, and $22.99 at Target and Amazon.
EXCLUSIVE DEAL:
What? Free Kid's Movie Ticket to Megamind with purchase of either the How to Train Your Dragon DVD or Blu-ray.
Where? Best Buy.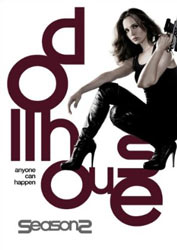 DOLLHOUSE (SEASON 2)
It was something of a miracle that Dollhouse wasn't canceled after the first season, and a few episodes into Season 2, it became apparent that Whedon knew his show wouldn't survive another round. Despite this, Whedon still had every intention of finishing the story he set out on telling. By the end of the season, Whedon condenses what seems like full seasons worth of plot and character development into single episodes, and somehow, he pulls it off. The season isn't perfect, but all things considered, Whedon made do with the cards dealt to him in admirable fashion. Really, the show's biggest drawback continues to be Eliza Dushku, but if you can look past her unconvincing performance, the show is a must-see for sci-fi fans.
Available on Blu-ray? Yes.
Notable Extras: DVD & Blu-ray – Two audio commentaries, Outtakes, Deleted Scenes, Defining Moments, and Looking Back.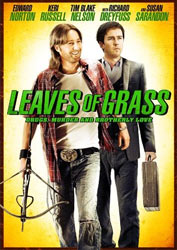 LEAVES OF GRASS
Reviews have criticized Leaves of Grass for its jarring shifts in tone, but to criticize that would be to miss out on the point of the film's heavy philosophical leanings. This is a film that deliberately defies genre categorization, using its tale of mistaken identity between two twin brothers—one an educated writer and professor, and the other a drug dealer (both brilliantly played by Edward Norton)—as means to explore its many contrasting dichotomies: comedy vs. tragedy, order vs. chaos, and so on. The title of the film is derived from a book of poetry by Walt Whitman, and through discussions of it during a session of fish-gutting, the film questions whether it's better to follow a preordained format or to create your own rules—as much in life as in art. Fascinatingly, the film communicates this theme not just through the characters and story, but by actively challenging its own format. To some, this makes the movie messy and inconsistent. To me, it's the most interesting thing about it.
Available on Blu-ray? Yes.
Notable Extras: DVD & Blu-ray – Audio commentary with Edward Norton and Tim Blake Nelson, and a making-of featurette.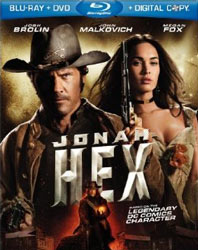 JONAH HEX
There are three things I will say in support of Jonah Hex: it's mercifully short, Michael Fassbender wears a sweet bowler hat in it, and Megan Fox is very convincing as a sweaty prostitute. The rest of the film, meanwhile, is a dumb, incomprehensible, horribly edited and stripped down tale of an undead guy who mumbles a lot and wants revenge against a man who plans on destroying the nation with Dragon Balls.
Available on Blu-ray? Yes.
Notable Extras: DVD – Deleted scenes. Blu-ray – Includes everything on the DVD, as well as The Inside Story of Jonah Hex, and The Weird Western Tales of Jonah Hex.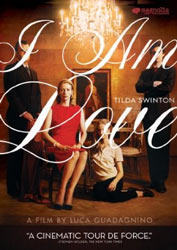 I AM LOVE
Though it says nothing of what the film is about, the trailer for the Italian picture I Am Love (which stars Tilda Swinton) is a thing of beauty. The combined effect of its music and visual composition is enchanting, and according to these glowing reviews, the same is true of the film. I'm sold.
Available on Blu-ray? Yes.
Notable Extras: DVD & Blu-ray – Commentary with Director Luca Guadagnino and Tilda Swinton, Moments on the Set of I Am Love, and Interviews with the Cast and Crew.
Other noteworthy DVD (and Blu-ray) releases this week...
The Darjeeling Limited (Criterion Collection) [DVD / Blu-ray] – The Magician (Criterion Collection) [DVD / Blu-ray] – Lost Boys: The Thirst [DVD / Blu-ray] – The Hangover (Extreme Edition) [DVD / Blu-ray] – The Tudors (The Final Season) – In Treatment (Season 2)
Noteworthy Blu-ray-specific releases this week...

NOTES: Some deals may vary by store. Some deals may be in-store only. All deals are for DVDs unless otherwise noted.

$19.99 – Dexter (Season 4)
$24.99 – The Simpsons (Season 13)

$17.99 – Eastbound and Down (Season 1)
$9.99 – Blu-ray sale: Orphan, Pandorum, Resident Evil: Extinction, Saw VI

$8.99 – Blu-ray sale: Bad Lieutenant, The Blair Witch Project, Hard Candy, Edward Scissorhands, Open Water/Open Water 2: Adrift, The League of Extraordinary Gentlemen, Wonderland, Planet Hulk
$4.99 – The Bourne Identity, The Bourne Supremacy, The Bourne Ultimatum, Serenity, Forgetting Sarah Marshall, Mulholland Dr.