First Official Look At Daft Punk In 'Tron Legacy'; Another Soundtrack Tune Previewed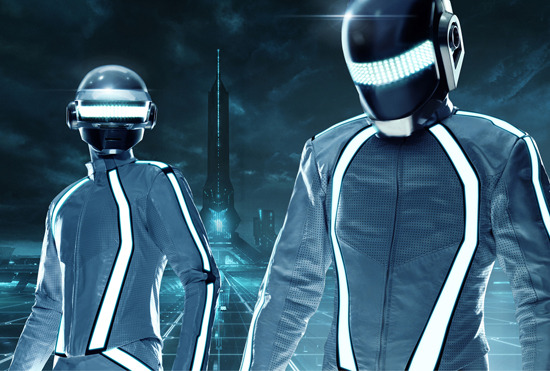 At the risk of becoming an extension of the PR division at Disney, here's your first official look at French electronic duo Daft Punk as they appear in Tron Legacy. Looks, well, more or less like Daft Punk as they always appear. But that's the point, right? They were into Tron when no one else was; this is the payoff. In addition to this image, which complements the tease of the band's glow in the dark poster we saw the other day, ninety seconds of another Tron Legacy soundtrack tune has been released. Hear that after the break.
The minute and a half preview of 'The Game Has Changed' appeared on the Tron Legacy Facebook page this morning. It's consistent with the other stuff we've heard from the score so far. Which is to say: pretty effin' great. Take the Daft Punk and Tron mix you expect, let it get just a bit more glitchy, and then throw in a little Inception influence.
It's not the most subtle movie music we've heard recently, but for a glowing story about a man trapped inside a computer, where he has to fight for his life and his family, it is ideal.
This is the kickoff of what Disney is calling Tron Tuesdays, which will see the release of new materials for the film every Tuesday for the next ten weeks as the film's release date approaches. The other part of today's Tron Tuesday was the release of tickets for Tron Night, which will mimic Avatar's PR campaign by offering up a free 20+ minutes of Tron Legacy.
Check out the TRONiVerse: