$120 Million Adaptation Of 'The Scarlet Pimpernel' In The Works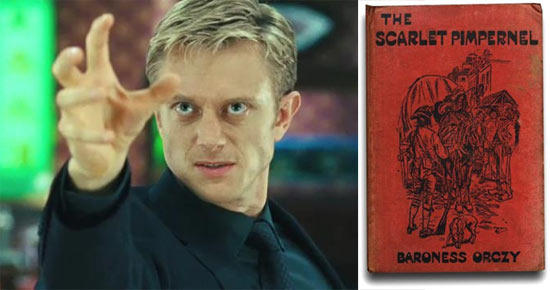 There have been a dozen or so adaptations of The Scarlet Pimpernel, the classic play and adventure novel by Baroness Emmuska Orczy, but none that have earned nearly the recognition that a story of this stature could sensibly attain. A studio in the UK is intent on changing that though, as they plan to "do to the story of 'The Scarlet Pimpernel' what Guy Ritchie did to 'Sherlock Holmes'."
The quote comes from executive producer James Black, mentioned in a piece by The Hollywood Reporter about Fairbanks Productions, the budding UK production company behind the film. Black is part of the team headed by Dominick Fairbanks, the great grandson of Hollywood legend Douglas Fairbanks (who was nicknamed "The King of Hollywood"). It seems like this film may be a way for Dominick to pay tribute to his heritage, as The Scarlet Pimpernel was a precursor to the masked-avenger genre (including Zorro), and Douglas was well recognized for his swashbuckling roles in films like The Mark of Zorro.
Set during the Reign of Terror following the start of the French Revolution, the story of The Scarlet Pimpernel follows Percy Blakeney, who leads a double life as an English fop and a swashbuckling rescuer of aristocrats.
Playing Percy in the film will be British actor Neil Jackson (pictured above), who has only had small roles in films such as Quantum of Solace, Push and Alexander. No other cast (or a screenwriter or director, for that matter) was announced, but Black did note that there would be numerous "high profile cameos".
Shockingly, the budget for the film is set at £75 million (about $120 million). In a time of such economic uncertainty, when even major studios are struggling to stay afloat, and those that aren't are downsizing their production budgets considerably, this is a very bold move.
The Scarlet Pimpernel will be the crown jewel of the planned projects for Fairbanks Productions. First they'll produce Kill The Dead, a lower budget effort (£5 million, or $8 million) set in the near future where a reality TV show has people brought back to life so contestants can kill them. Production on Pimpernel is planned to begin sometime in the second half of next year.