David Fincher's Proposed One-Shot Opening To 'The Social Network'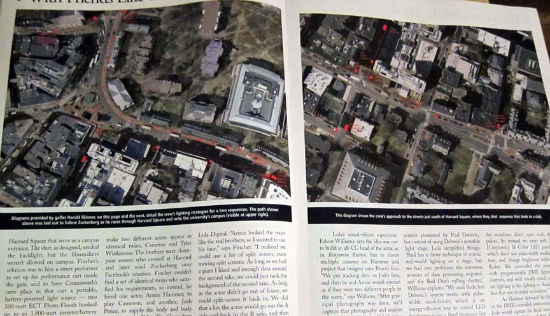 For the second weekend in a row, David Fincher's The Social Network was the #1 film at the box office making $15.5 million. That means the behind the scenes tale of the birth of Facebook has great word of mouth and discussion about it is not going anywhere anytime soon. One of the sequences many might overlook in that discussion is the opening credits scene, which sees Mark Zuckerberg (Jesse Eisenberg) walk angrily back to his dorm at Kirkland House from The Thirsty Scholar after being dumped by his girlfriend Erica (Rooney Mara). As it stands, it feels pretty standard, but that's not what Fincher originally intended. Instead, he wanted it to be an epic one take sequence filmed with multiple cameras stationed at multiple locations along the actual route which would then be stitched together in post production. The photo above is a map of the route taken from American Cinematographer magazine. Hit the jump to read Fincher's reasoning behind it and more. Jim Emerson's Scanners Blog, part of the Chicago Sun-Times website, talks about the epic shot that never happened as it's featured in a story about The Social Network in American Cinematographer magazine.
According to Michael Goldman's cover story in the October issue of American Cinematographer, the whole trek was designed to be accomplished in one long take, with multiple cameras stationed along the route. The footage (if you can still call it that, when the images are being captured on 16GB CF cards) would then be stitched together in post-production to create one seamless shot. There's even a satellite map of the course in the magazine.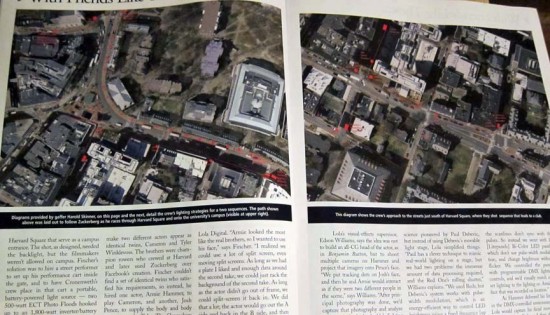 Emerson surmises that so much attention was being paid to this sequence because seeing Mark actually outside, alone in the world, and not in front of his computer interacting with millions, was a very important juxtaposition.
This protracted sequence shows Mark physically embedded/immersed in what I like to call "the analog world," where speed and distance are not fiber-optic illusions, and things cannot be in more than one (virtual) place at a time, much less made available to hundreds or thousands or millions of computers from a dorm laptop with a few clicks in a matter of milliseconds. It is not the world in which he feels most comfortable, and he needs to get through it and back into his head as quickly as possible, even though it takes a long time to do so.
The article gets into a lot more detail than that talking about the actual photography of the film, its place in the Fincher canon and much more. It's a great read if you are a fan of The Social Network.
Do you agree with Emerson's assessment of the opening credit sequence? Did it even occur to you of its potential importance? Can you speculate why Fincher didn't end up going this way and will that make you view the scene differently in the future? All questions to ponder below.