Al Pacino To Play Phil Spector In HBO Film Written & Directed By David Mamet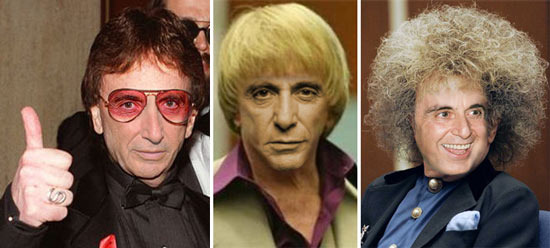 David Mamet's efforts were dashed last year when his follow-up to Redbelt, a reframed look at the life of Anne Frank, was put into turnaround at Disney for being "too dark". Fans of Mamet were surely less than thrilled by this development, but now he has a new project in the works that could be just as interesting.
In conjunction with HBO Films, Mamet will write and direct a film about Phil Spector, the celebrated record producer turned murderer. Starring in the film is none other than Al Pacino, who's not only the same age as Spector, but also shares his wild-eyed glare. Will he also be sporting Spector's infamous gaudy wigs? We can only hope.
Serving as executive producer on the film is Barry Levinson (director of Rain Man, Sleepers, and Wag the Dog), as per the report from The New York Times. It's unclear whether the film will be released theatrically or exclusively through pay television, where (prior to its DVD release) it will would available only to those subscribing to HBO. But given that Pacino most recently played Jack Kevorkian in Barry Levinson's HBO pic You Don't Know Jack, the latter is the more likely outcome.
The film is still very early in development, so all we know about the proposed story is what can be gathered from the real-life history of the notorious Phil Spector. Prior to his being sentenced 19 years to life for the shooting and killing of an actress, he had produced the Beatles' Academy Award-winning album Let It Be, developed the "Wall of Sound" production technique, and been inducted into the Rock and Roll Hall of Fame as a non-performer. Those are just a few of the highlights of a very storied and successful career, until it of course ended in bloodshed.
I can't think of a single director-actor pairing more compelling than Pacino and Mamet to tackle this story and the peculiar individual at the center of it. (Not even Cameron Crowe and Tom Cruise, who tried to make a feature about Spector before dropping it due to third-act issues.) And frankly, Pacino could use another solid character piece to further offset the disappointment of Righteous Kill and embarrassment of 88 Minutes, and this film sounds like just the project for it.