POTD: J.K. Rowling's Plot Spreadsheet For 'Harry Potter And The Order Of The Phoenix'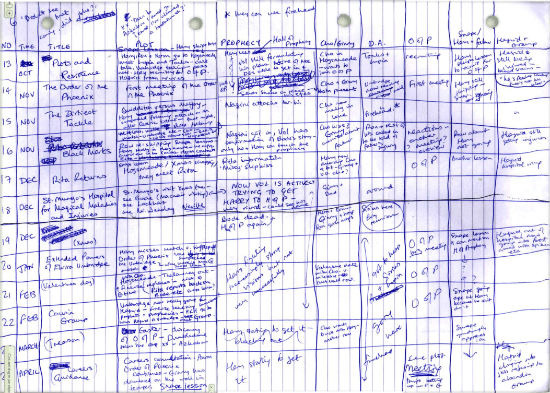 One of the questions all of our great storytellers now have to answer on a daily basis is, "Where is it all going?" Think of the writers of Lost. All anyone ever wanted to know from them was if they actually had everything planned out. Another person who has had to answer that question is J.K. Rowling, the billionaire author behind the Harry Potter franchise. Book after book, her story unfolded and critics would ask questions like, "Did you know about horcruxes when you were writing Sorcerer's Stone?" Well, an awesome insider look at Rowling's mind has just surfaced. It's a piece of loose leaf paper where she outlines several chapters of Harry Potter and the Order of the Phoenix and, looking at this page, it's quite obvious that Rowling knew exactly what was going on with everything in her books. Check out the full image after the jump.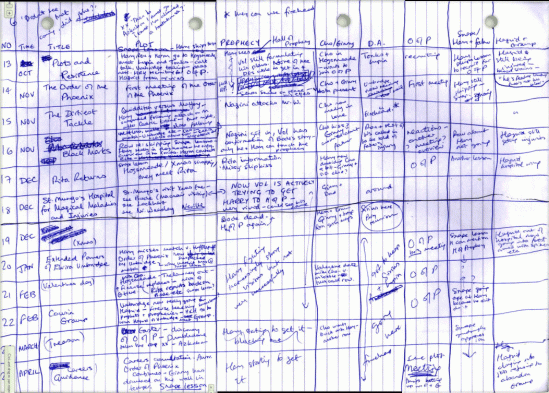 If you blow that image up and look at it, it's fascinating. Rowling outlines each chapter in detail including which month of the school year it takes place in, the title and the plot. All of that seems standard. But it's the next few columns where things get really good.
She keeps track of all the book's subplots in every chapter and how they are developing in the real world of the book, even if they aren't mentioned on the page. So, there's a full column on "The Prophecy" which is the main subplot Harry is worried about throughout the book. Then there's a column for the romantic subplot, titled "Cho/Ginny" followed by "D.A." which follows what's going on with Harry, Ron and Hermione's resistance group "Dumbledore's Army," one called "O of P," a column about what's the latest with the "Order of the Phoenix," a.k.a, the people who believe Voldemort is still alive, then separate columns for Snape (and others, I can't read Rowlings writing) and the Hagrid and Grawp story.
If you think about Harry Potter and the Order of the Phoenix, that's it. Those columns pretty much encompass the whole story. Frankly, I'm surprised there isn't a column for Dolores Umbridge but this surely isn't the full extent of Rowling's outlining. Really, it's just a small window into her genius.
What else can you guys decipher from this image?
Source: Buzzfeed