Tom Cruise Developing 'Flying Tigers' Film To Rival John Woo's; Cruise Not Attached To 'El Presidente'?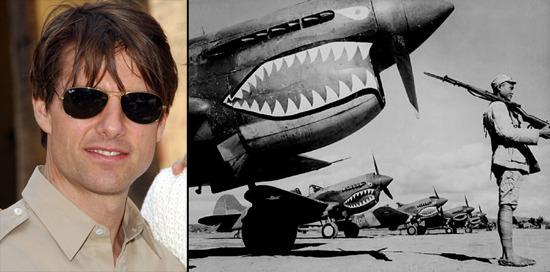 Well, we don't much like Mission: Impossible 2 either, but this almost seems like quite a serious move by Tom Cruise in opposition to his M:I2 director John Woo. (It probably isn't anything more than standard business, however.) Mr. Woo has been developing  a WWII film called Flying Tigers, and hopes (hoped?) to have Liam Neeson appear in the picture when it shoots next spring.
Meanwhile, Tom Cruise reportedly wants to play a fighter pilot in a period picture, and he and producers at Fox and New Regency have hired a writer to pen a new draft of their own Flying Tigers film.
Deadline says that Kirk Ellis got the nod to rewrite a previous draft by Christopher McQuarrie and Mason Alley.
And, lest there be any confusion, both Flying Tigers films are based on the story of the fighter squadron formed in China by former US General Claire Chennault as a clandestine/volunteer force to fight against Japan before the US formally entered WWII. Eventually outfitted with US-made planes and augmented with American pilots, the squad openly entered the war after Pearl Harbor. The story of the squad's strange path to being more or less a part of the real US military chain of command is as interesting as the heroics of the pilots.
As with most head to head development deals, whoever gets into production first will likely win this particular game of chicken. The safe money is bet on John Woo here, just because he's farther along.
Meanwhile, just a day ago we talked about El Presidente, the comedy that has just gone into development at Warner Bros. Supposedly Tom Cruise was attached within a day of the script being purchased by the studio, with an offer out to Jack Nicholson for the other lead role. (Script is about "an overly-committed Secret Service agent who is assigned to guard the country's worst former president, a bumbling sleaze.")
Trouble is, Deadline says Tom Cruise was never attached. Take that as you will. El Presidente sounds like it could be fun, and the Cruise/Nicholson reunion was tempting, but there are plenty of other actor pairs that could make that one come alive.
(Finally: is anyone actually a fan of M:I2? I don't recall talking to anyone in the past few years who'll make a case for it, but it has to have a couple of proud fans.)