Huge Rumor: 'Batman 3' To Feature Killer Croc?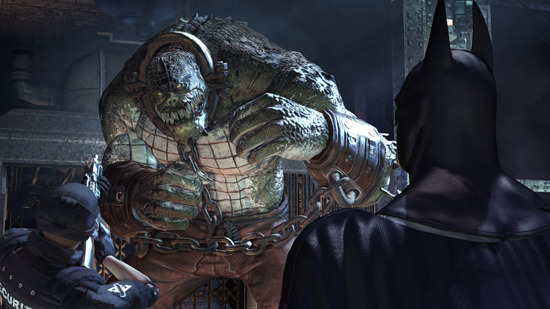 For the past day, the big buzz on Christopher Nolan's third Batman film is that the film will shoot next April in Louisiana. The supposition for the Louisiana location, after the previous two films did so much photography in Chicago, is that Warner Bros. loves the tax breaks that helped out Green Lantern when it shot in the state earlier this year.
But what if the location also played into the incorporation of a particular character into the story? A Killer Croc might be at home in Louisiana swamps, yes? Let the speculation begin! (It already has; we're just pushing you to talk about it.)
It started like this: ComingSoon reported that Batman 3 would shoot in April in New Orleans. And then comics writer Mark Millar dropped a pair of tweets that went as follows:
1) Oh, wait. Con gossip: I know who the villain(s) are in Batman 3 and the big scene outside Gotham sounds awesome. Totally timely locale.
2) One of the villains is from my favourite childhood run on the character. Again, very unexpected.
So, Millar (who I don't often believe to begin with) mentions a non-Gotham locale, which dovetails with the unconfirmed report of New Orleans, which has swamps, and naturally Killer Croc's name comes up. Totally solid, right? Especially since Killer Croc first appeared in 1983, when Millar would have been 13. Does that count as within the timeframe for favorite childhood run in Batman? Maybe.
Killer Croc isn't too difficult a character concept to wrap one's head around, but here's some background:
Waylon Jones is a former crocodile wrestler turned into a criminal deformed by a birth defect. He has low intelligence but great strength, as well as crocodilian abilities, such as a keen sense of smell and the ability to hold his breath underwater for long periods of time.
So: discuss the option of Killer Croc, but until we've got a lot more info don't assume this is anything other than a huge rumor. The character played a big role in the very good Akham Asylum game last year (see image above), so he should be fresh on some fans' minds. He also had a recurring role in the Batman Animated Series.