Darren Aronofsky's Next To Be 'The Tiger' With Brad Pitt? Not 'Wolverine 2'?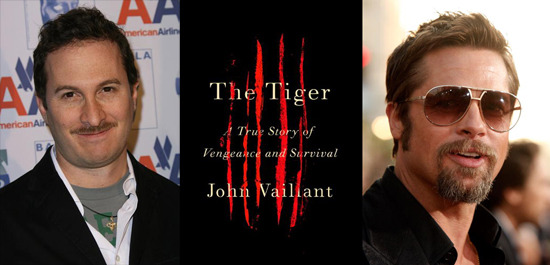 From Robocop to Preacher to Superman, Darren Aronofsky's name has been bandied about endlessly as a potential director for major geek titles, but thus far nothing has come of any of them. A recent offer threatened to change that though, with Fox granting him the reigns to the X-Men Origins: Wolverine sequel, should he choose to accept them. Meanwhile, Warner Bros. also wants him for Tales From the Gangster Squad, their high priority LA crime flick.
Well, this isn't confirmation that Aronofsky has turned down those offers, but it's a pretty strong indicator. Screenwriter Guillermo Arriaga (Babel, 21 Grams, Amores Perros) confirmed in an interview that location scouting on The Tiger, Aronofsky's previously announced adaptation of John Valiant's The Tiger: A True Story of Vengeance and Survival, will commence in November, and that filming will begin early next year. Unless Fox and Warner Bros. are willing to wait around for Aronofsky to finish work on The Tiger—which is an unlikely prospect any way you look at it—I think we can expect to see those projects fast-tracked to other directors in the very near future.
The interview comes from Quien, translated via The Playlist. Said Arriaga: "These days I'm traveling to New York to lend clarity to the last detail, in November would be doing a tour of Siberia to check locations."
The Playlist also gathers from the interview that Angelina Jolie has been cast in the film, but let's put that rumor to bed right now. Jolie is mentioned off-handedly in the piece in reference to her marriage with Brad Pitt, not (as far as I can tell) because she's starring in it. Reading an English translation of the interview, I can see why there would be some confusion on the matter.
Even if Jolie isn't re-teaming with Pitt in The Tiger though, she is meant to be working with Aronofsky on Serena, an adaptation of the novel of the same name about newlyweds George and Serena Pemberton, who create a timber empire in the Depression-era.
As for The Tiger, here's the feature pitch:
[The Tiger] takes place on the Siberian plain, where human development is encroaching on the tigers' habitat — and one tiger turns on the intruders. With townspeople being tracked and hunted with an almost supernatural power, a conservationist game warden must face down the tiger. It is a fight that only one of them can win.