William Friedkin Preparing To Film Another William Peter Blatty Adaptation?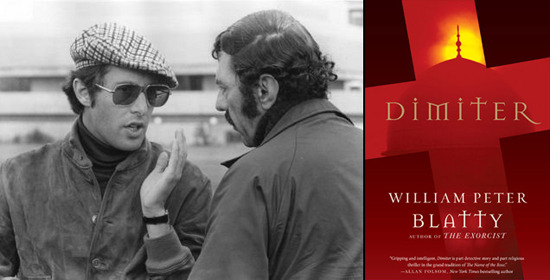 The first collaboration between director William Friedkin and author/screenwriter William Peter Blatty produced one of the most famous / notorious horror films in movie history. (Um, The Exorcist.)
Now, as Mr. Friedkin promotes a limited theatrical re-release and Blu-ray disc of The Exorcist and prepares to shoot the film Killer Joe in Louisiana, he may also be ready to re-team with Mr. Blatty after almost forty years, to adapt the novel Dimiter.
The author says,
Dimiter, a supernatural suspense thriller set mostly in Jerusalem, is a novel that's been out and around since mid-March. Billy Friedkin is eager to direct it as a film, which would be our one and only other teaming since The Exorcist.
Question is: who would script the film? The idea of William Peter Blatty adapting his own novel is remarkable, even if William Friedkin did not direct. Mr. Blatty's last produced screenplay was for The Exorcist III in 1990, which he also directed. (And which, thanks in part to Brad Dourif, is generally a more entertaining film than given credit for. Remember also that it arrived just months after William Friedkin's own return to conceptual horror, The Guardian. Trivia!)
Here's a synopsis of the novel:
In 1973 Albania, Colonel Vlora (aka the Interrogator), the head of a team of torturers, questions the Prisoner, who the reader later learns is Paul Dimiter, an American clandestine agent referred to in some quarters of the world as 'legendary,' while in others as 'the agent from hell.' (Rumor has it Dimiter poisoned Ho Chi Minh while the Vietnamese leader was visiting Albania shortly before his death in 1969.) Dimiter escapes to Jerusalem, where he encounters a number of engaging characters, including a doctor of neurology, a sharp-tongued nurse, and a grief-stricken Israeli policeman. The complicated plot confounds until the isolated pieces of the psychological puzzle that's Dimiter match up and fall into place, revealing surprising truths.
[Rue Morgue via STYD]