Rachel Weisz And Emily Blunt Starring As Sisters In Mumblecore Film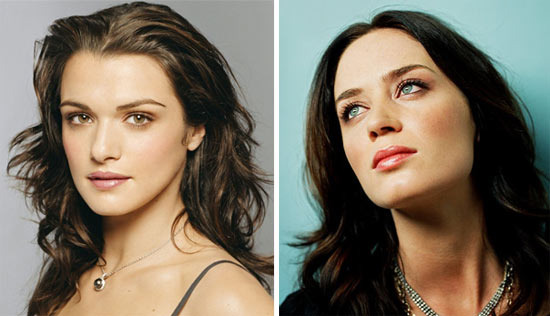 The mumblecore movement got a big boost this year when Jonah Hill and John C. Reilly starred alongside each other in the arrested development comedy Cyrus, written and directed by the Duplass brothers, two of the pioneers of the genre. Prior to that, half that duo—Mark Duplass, who's also in FX's The League—had starred in Humpday, which was written, directed and produced by Lynn Shelton. That casting is more in line with what we've previously come to expect from the genre: mostly in-house, with a lot of friends and no-name actors filling out the cast.
Now Shelton looks to be one-upping Mark Duplass' big name casting, snagging Oscar-winner Rachel Weisz and Emily Blunt as sisters for her latest entry in the mumblecore genre. Learn more after the break.
The announcement comes from Deadline, who don't have much info on the untitled project, but do know that production is only a few weeks away. Moreover, the shoot itself will only take a couple of weeks (once again topping Cyrus, which took six weeks to film). The brief shoot time is what's allowing Weisz to take part, as she's squeezing the project in between a week on Terrence Malick's latest and filming of the play adaptation The Deep Blue Sea.
With such a quick shoot, I'm very curious to learn what the plot of the film is, since it obviously doesn't require too many set-ups or locations. Even more interesting though, will be finding out how Weisz and Blunt adapt to the semi-improvisational style of mumblecore filmmaking. Casting Jonah Hill and John C. Reilly was a step into the mainstream, but it was a sensible fit, as both of them are known for their improvisational skills (having displayed them in numerous Apatow productions). Weisz and Blunt have more than proven their dramatic range in the past, but they're not nearly as accustomed to engaging in naturalistic, free-form conversations on film. This should be a nice challenge for them, and I can't wait to see how it turns out.
It's also nice to see Blunt moving away, however briefly, from some of the more dismal projects she's been singing onto recently. This is a step in the right direction, for sure.