'Sherlock Holmes' Writer Scripting 'Yucatan' For Robert Downey, Jr.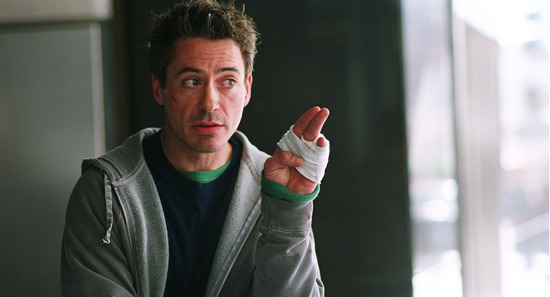 One of the great never-made films in action movie history is Yucatan, an epic treasure hunt/heist film concocted by actor Steve McQueen. The star of Bullitt and The Great Escape never got to make the film, but 1700 pages of notes on the film were found among Mr. McQueen's possessions years after his death.
The film has been a possible project at Warner Bros. ever since that discovery, and now Sherlock Holmes screenwriter Anthony Peckham has been hired to mold it into a star vehicle for Robert Downey, Jr.
What is Yucatan? Originally conceived by Mr. McQueen in the late '60s to be an action movie without dialogue (oh, the halcyon days of the New Hollywood) the story follows...
...an archaeologist from the Museum of London who enlists a renegade Navy diver, who works for the oil companies and races motorcycles on the shores of the Mojave, in a plan to explore the cenotes, caves in the Yucatan jungle that reveal underground lakes. Here, a millennium before, Mayan priests sacrificed virgins covered in gold and precious jewels, a fortune rumored to still adorn their skeletons at the bottom of these sacred wells.
says Mr. Peckham is scripting the film for Robert Downey, Jr. to play the diver.
The notes were discovered in 2005, and Warner Bros. immediately started trying to figure out how to make the film. In 2007 McG was
, but nothing ever came of that phase of development. Robert and Susan Downey's company Team Downey took over development of the project when it set up a first-look deal with Warner Bros. last June.
No director is set as yet, but I hope to hear more on this one soon. Yucatan sounds like a grand adventure movie in the classic mode, and it's so easy to see how Robert Downey, Jr. would be tremendous in the lead. Wonder if Warner Bros. sees this as a rival/antidote to Sony's adaptation of the video game Uncharted?
(And, yeah, that image above is from Kiss Kiss Bang Bang, aka the greatest RDJ movie too many people still haven't seen. Queue it!)