Sam Raimi Commits To 'Oz The Great And Powerful,' David Lindsay-Abaire Rewriting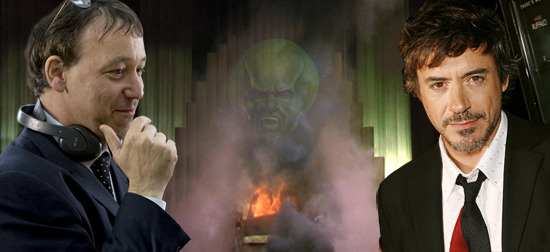 Last time we checked in on Sam Raimi's possible directorial gigs, he was primarily waffling between Disney's Oz the Great and Powerful and his still-in-development World of Warcraft movie, with a possible adaptation of the comic book Earp: Saints for Sinners as a long-range backup plan. Now Raimi has reportedly committed to Oz, which will also have a rewrite from high-profile scribe David Lindsay-Abaire.
Deadline says that Disney has "received a commitment" from Raimi to direct the Oz picture, which is seen by the studio as a sort of follow-up — hopefully — to the runaway success of Tim Burton's 3D Alice in Wonderland. Deadline's report says that Disney expects production on Oz the Great and Powerful to begin next year, although at what point on the calendar, we don't know.Robert Downey, Jr. isn't yet signed, but remains attached. And Raimi has been working on the script with David Lindsay-Abaire, who wrote John Cameron Mitchell's festival hit Rabbit Hole, as well as Robots and Inkheart. And, tellingly, the writer was one of the people who did a draft or two of the aborted fourth Spider-Man film as Sam Raimi and Sony were trying to figure out how to make that in a way that kept everyone happy.Oz, the Great and Powerful was originally a script by Mitchell Kapner that was once called Brick. As I said when we first reported on this, Kapner's script takes the idea that, like Dorothy in The Wizard of Oz,  the Wizard is also transported to Oz from Kansas, and details how he came to be the power seen in The Wizard of Oz. Kapner based the script off of a collection of influences from L. Frank Baum's Oz books as well as some ideas of his own to produce a story that suggests "the wizard is a charlatan who's part of a traveling circus but goes on a similar odyssey as Dorothy when he mysteriously lands in Oz."
With Raimi's involvement and David Lindsay-Abaire's rewrites, we don't know how the script has transformed over the past six months. Downey is said to be more committed now, and we'd have to expect that some of the changes have been made in order to specifically tailor the dialogue to him. If you've got info on the current draft, let us know.