Director Shortlist For 'Tales From The Gangster Squad' Reportedly Includes Francis Lawrence, Paul Greengrass And More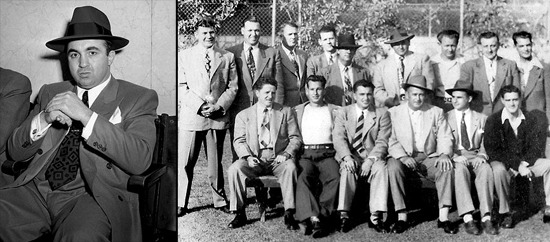 I can't tell if Tales From the Gangster Squad, based on a series of LA Times articles and intended as an ensemble 'actor's piece,' is as much of a priority at Warner Bros. as news would make it seem, or if the film is just an easy headline. The script details an LAPD squad's efforts to oppose the incursion of organized crime into the city of LA, and is said to be fantastic.
In the last couple weeks, perhaps motivated by the reception for The Town, the film was offered to Ben Affleck, and yesterday word came down that Warner Bros. lobbed it at Darren Aronofsky. But with Affleck passing and Aronofsky looking likely to take Wolverine 2 (what a strange world) WB reportedly has five more names on a list of possible directors.
Latino Review reports that the studio shortlist is as follows, but does not have info about which ones, if any, have met with WB at this point:
That's an odd list.
Scott Cooper's only credit is Crazy Heart, but right now he's the name that most intrigues me. Francis Lawrence (I Am Legend) is shooting Water For Elephants right now and has other projects lined up; he seems too glossy for this one. Paul Greengrass is certainly an intriguing option, and he's done four pictures in a row for Universal. After Green Zone I'd like to see him working with more constraint — that movie was allowed to run wild and, I think, suffered for it — and this could be the ticket.
Gerg Berlanti and Martin Campbell are part of the Green Lantern team, and Berlanti also directed the utterly awful-looking Life as We Know It, which opens this week. I could see Campbell working with the material, and WB might want to keep him around for a possible Green Lantern sequel.
Previously:
Tales From the Gangster Squad is based on a series of articles Paul Lieberman wrote for the LA Times which tracked an LAPD unit established in the '40s to deal with an insurgence of Mafia figures from the east coast. Key among those figures was Mickey Cohen, who originally worked for Al Capone in Chicago, then was sent to Los Angeles, which he used as a base for early business in Las Vegas and quickly consolidated control of LA organized crime.
Will Beall wrote the first draft of the script for The Departed producers Dan Lin and Kevin McCormick. Beall is a former cop and author of the novel L.A. Rex, which he's also adapting to script form for producer Scott Rudin, and he may write Xombi for DreamWorks. Depending on who is hired to direct, we could likely see a script rewrite follow.