This Week In DVD & Blu-Ray: The Karate Kid, A Nightmare On Elm Street, Splice, The Secret Of Kells, And More
We may receive a commission on purchases made from links.
This Week in DVD & Blu-ray is a column that compiles all the latest info regarding new DVD and Blu-ray releases, sales, and exclusive deals from stores including Target, Best Buy and Fry's.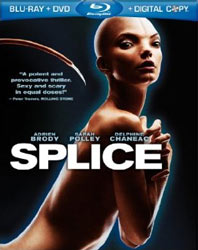 SPLICE
Splice has its problems—not least of which is a flat third act horror turn-around—but it's also refreshingly weird and original, taking the familiar monster movie/genetic-experiment-gone-wrong formula and twisting it into something uniquely its own. The Cronenberg inspiration is clearly evident, and lest the film get too serious, there's also a knowing Sam Raimi vibe that creeps in now and again during some uncomfortably hilarious moments of absurdity. Not everyone will be able to tolerate the bizarre turns the story takes, but for those able to let the film's perverse sense of dread pull them in, it's one of the more intriguing films to be released in quite awhile.
Available on Blu-ray? Yes.Notable Extras: DVD & Blu-ray – A Director's Playground: Vicenzo Natali on the set of Splice.
BEST DVD PRICE
Target
Best Buy
Fry's
$17.99
$19.99
$19.97
Amazon – $17.99
BEST BLU-RAY PRICE
Target
Best Buy
Fry's
$24.99
$26.99
N/A
Amazon – $24.99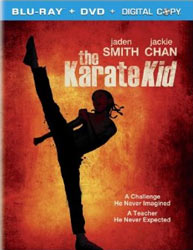 THE KARATE KID(Blu-ray available as single-disc and 2-Disc Blu-ray/DVD Combo + Digital Copy)
I don't ask for much from a remake, only that it brings enough new to the table to justify its existence. If by the end of the film, I get the sense that money wasn't the only motivator for it being made, then it's probably done its job. Amazingly, in spite of casting and trailers that would suggest otherwise, The Karate Kid achieves this goal. The strength of the original film lied in the intrinsic charm and chemistry that resulted from the pairing of Ralph Macchio with Pat Morita and Elisabeth Shue, and though to some degree this is where the remake falls short, it makes up for it by improving on all of the original's shortcomings. Everything from the setting to the culture to (especially) the fight sequences have been emphasized here, giving the story an unprecedented weight and scope. Some would probably write these enhancements off as being unnecessary additions to an unnecessary remake, but let's be realistic: the fight scenes in the original were laughable, to the point that even the climactic victory was soured as a result. With this retelling of the story, we see scrawny Jaden Smith make the journey from useless pipsqueak to verifiable kung fu badass, believably taking down legitimately threatening kids who are twice his size. That difference alone is justification enough for a remake.
Available on Blu-ray? Yes.Notable Extras: DVD – Chinese Lessons – Learn Chinese!, and Just for Kicks: The Making of The Karate Kid. Single-disc and 2-disc Blu-ray – Includes everything on the DVD, as well as ON LOCATION: The Karate Kid Interactive Map of China, Alternate Ending, Production Diaries Hosted by Jackie Chan.
BEST DVD PRICE
Target
Best Buy
Fry's
$16.99
$17.99
$16.97
Amazon – $16.99
BEST BLU-RAY PRICE*
Target
Best Buy
Fry's
$19.99
$22.99
$19.97
Amazon – $19.99
*Does not include 2-Disc Edition, which costs $22.99 at Fry's and Amazon, and $25.99 at Target and Best Buy.
EXCLUSIVE DEAL:What? Blu-ray 2-pack ($35.99) featuring both original and remake of The Karate Kid.Where? Best Buy.
THE SECRET OF KELLS
Last year's surprise Best Animated Feature Oscar nominee The Secret of Kells is not a movie that can be properly served by reviewing it, as the plot—a fantastical storybook-esque tale about a boy, a book, and the importance of cultural preservation—doesn't offer much in the way of genuinely compelling characters or conflicts. It does blend history and mythology to interesting effect, but without question the central reason to see the film is its gorgeous, inventively designed 2D animation, which emulates the artwork found within the real-life Book of Kells. Imagine if the world of the platform game Braid were meshed with the artistic stylings of Genndy Tartakovsky (Samurai Jack, Dexter's Laboratory), and you still won't come close to doing justice to the enchanting visuals packed into every shot of The Secret of Kells. This is a movie that's better seen than discussed.
Available on Blu-ray? Yes.Notable Extras: DVD & Blu-ray – Notes From the Master illuminators: Audio Commentary with the Director, Co-Director, and Art Director, The Voices of Ireland: Voice Recording Sessions with Brendan Gleason, Evan McGuire, Christen Mooney, and Mick Lally, Director's Presentation of Pre-Production Sketches and Inspirational Images, Pencil to Picture, Early Concept Trailer, and Aisling at the Oscars.
DVD PRICE
Amazon – $20.99
BLU-RAY PRICE
Amazon – $34.99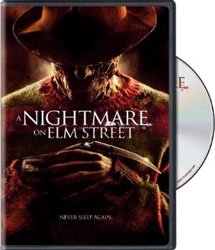 A NIGHTMARE ON ELM STREET
I love the concept behind the original Nightmare on Elm Street more than I love the actual movie. As intriguing as its premise is, the film feels continually restricted by its budget, relying heavily on dull boiler rooms and warehouses to set the stage for its horror happenings. With such unlimited potential in the franchise's dreamscape setting, the thought of a remake actually excited me. Finally, a Nightmare film unfettered by budgetary concerns! What sort of twisted new reality-warping terror would they unleash upon viewers? None, apparently—just more boiler rooms and warehouses. The movie is practically identical to the original, the only real distinction being that it's completely devoid of tension/suspense and the bright-eyed teens of the '80s have been replaced with mopey, angsty teens of the aughts. It's the worst kind of remake: it does everything the original did, except worse. What a waste.
Available on Blu-ray? Yes.Notable Extras: DVD – Freddy Krueger Reborn featurette. Blu-ray – Includes everything on the DVD, as well as Maniacal Movie Mode, with alternate opening, alternate ending, and deleted scene.
BEST DVD PRICE
Target
Best Buy
Fry's
$17.99
$17.99
$17.97
Amazon – $16.99
BEST BLU-RAY PRICE
Target
Best Buy
Fry's
$24.99
$26.99
$26.97
Amazon – $24.99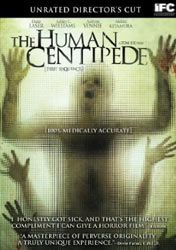 THE HUMAN CENTIPEDE
The ass-to-ass horror of Requiem for a Dream is taken to a whole new level in The Human Centipede, a film that's been receiving a lot of attention solely because of how grotesque its premise is. The reviews thus far have been incredibly mixed—the positive half expressing fondness for its underlying dark humor and a chilling performance from Dieter Laser as the mad scientist behind the operation, and the negative citing issues such as its conventional execution and the fact that it's a movie about people's mouths being stitched onto buttholes.
Available on Blu-ray? Yes.Notable Extras: DVD & Blu-ray – Audio commentary with director Tom Six, a deleted scene, a making of featurette, and alternate posters.
BEST DVD PRICE
Target
Best Buy
Fry's
$19.19
$14.99
N/A
Amazon – $14.99
BEST BLU-RAY PRICE
Target
Best Buy
Fry's
$22.59
$19.99
N/A
Amazon – $19.99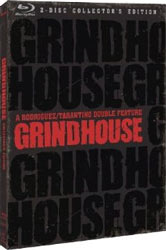 GRINDHOUSE (COLLECTOR'S EDITION)(Available exclusively on Blu-ray)
I generally refrain from discussing re-releases of movies on Blu-ray, but realistically, this is the first time Grindhouse has been released in any format. Before now, if you wanted to get the full double-bill experience, you had to switch out individual copies of Planet Terror and Death Proof, and even then you'd be without the faux trailers separating the films. This release changes that, but at a price: it has DVD quality audio (448kbps) instead of the lossless tracks from the previous Blu-rays. Without having compared the releases, I'm unable to assess how severely the change affects the films, and if it's bad enough to deter audio aficionados from the Collector's Edition altogether. Even so, I feel confident in saying that, with 8 gigs of space remaining on the disc, there's absolutely no justification for it.
Notable Extras: Includes all special features from previous Planet Terror/Death Proof releases, as well as Robert Rodriguez's 10 Min Cooking School, Greg Nicotero Makeup/Effects – Planet Terror, Extended trailer "Werewolf Woman of the SS", Making of the trailers: Don't, and Thanksgiving, Don't Trailer storyboards, Death Proof Deleted Scene & Gag Reel, Hot Rods of Death Proof, From Texas to Tennessee: The Look of Death Proof.
BLU-RAY PRICE
Amazon – $22.99
Other noteworthy DVD (and Blu-ray) releases this week...Caprica (Season 1) – Ugly Americans (Vol. 1) – Bones (Season 5) [DVD / Blu-ray] – Monk (Complete Series)Noteworthy Blu-ray-specific releases this week...Beauty and the Beast – Robocop Trilogy – The Exorcist – The Last of the Mohicans – Mad Max – The Mission – The Maltese Falcon – The Treasure of the Sierra Madre

NOTES: Some deals may vary by store. Some deals may be in-store only. All deals are for DVDs unless otherwise noted.

$4.99 – Observe and Report, Zack and Miri Make a Porno, Wedding Crashers, Hancock$9.99 – Tim and Eric Awesome Show, Great Job! (Season 1 – 3)$12.99 – Blu-ray sale: Orphan, Coraline, Daybreakers, Halloween II

$7.99 – Blu-ray sale: Children of the Corn, Dante's Inferno: An Animated Epic, Dead Space: Downfall, Hellraiser, While She Was Out$4.99 – The Abyss, Alien, Alien Resurrection, Live Free or Die Hard, Man on Fire, The Passion of the Christ, Predator, Valkyrie