Movie Trailer: Julie Taymor's 'The Tempest'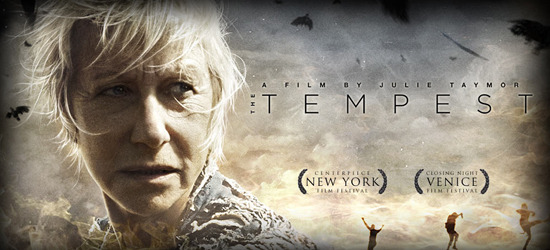 Holy AfterEffects! Word out of festivals in the past month wasn't terribly positive with respect to Julie Taymor's adaptation of William Shakespeare's The Tempest. And now that the first trailer is here it is easy to make a guess or to as to why. The cast is phenomenal: Helen Mirren leads as Prospera, with Russell Brand, Alfred Molina, Djimon Hounsou, David Strathairn, Chris Cooper, Alan Cumming, Ben Whishaw, Reeve Carney, Felicity Jones and Tom Conti. But the footage looks...well, see for yourself.
I applaud the guts it must take to proclaim, as this trailer does, that a film is full of stupidity, when the footage itself looks so thin. Taymor's stage leanings really come to the fore here, far more than in her previous filmed Shakespeare effort, Titus. But the barren landscape and explosions of effects make the film look cheap and threadbare rather than regal or dramatic.
There are some beautiful images here, but they scream direct to DVD rather than suggesting true magic or even Harry Potter. Let's hope there's more to the film, but between this and the festival reviews I'm gathering my dashed hopes.
Apple has the trailer in HD.
In her big-screen adaptation of Shakespeare's mystical thriller "The Tempest," Academy Award-nominated Julie Taymor ("Across the Universe," "Frida," "Titus") brings an original dynamic to the story by changing the gender of the sorcerer Prospero into the sorceress Prospera, portrayed by Oscar winner Helen Mirren ("The Queen"). Prospera's journey spirals through vengeance to forgiveness as she reigns over a magical island, cares for her young daughter, Miranda, and unleashes her powers against shipwrecked enemies in this exciting, masterly mix of romance, tragicomedy and the supernatural.