Michael Winterbottom And Colin Firth May Chronicle Murder; IFC Buys Winterbottom's 'The Trip'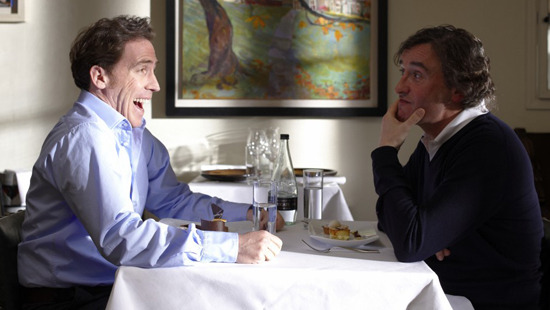 It's been a busy year for Michael Winterbottom. He made it to Sundance with The Killer Inside Me, which hit theaters earlier this year. He put together The Trip, which reunited him with actor Steve Coogan. That film appeared at the Toronto International Film Festival and was just picked up by IFC. And now Winterbottom may have a project going to dramatize the story of murdered British exchange student Meredith Kercher, with an offer for one role out to Colin Firth. (The image above is from The Trip.)
The Guardian says that Winterbottom is putting together a film loosely based on the story of Kercher's murder, which took place in Perugia, Italy. He's spoken to Colin Firth about playing a role, likely a journalist.
The story is in the news now, as 23-year old Amanda Knox, an American student convicted last year with her former boyfriend Raffaele Sollecito of killing Kercher during a sexual assault, has been in court this week. Winterbottom attended the hearings, telling the Guardian afterward,
You are drawn into this story, it is a puzzle....Usually puzzles in films are fake, but this is one without a solution....I have no view on whether they did it, the film will not be about that. There is unlikely to be a character playing Knox.
Winterbottom says he's more interested in the role played by journalists in the case. "The taking sides over the case was extreme here...There was no explanation that covered everything and the journalists were drawn in in a way you would not expect.
This film is still in very early stages — it might not happen at all.
Meanwhile, IFC has finalized a deal to distribute The Trip, according to Deadline. The film is slightly unusual, as it was built out of footage from a 6-part BBC series, with additional new scenes added. Here's the synopsis for the film, which IFC will bring to theaters on an as-yet undisclosed schedule.
Steve Coogan and Rob Brydon reprise their characters from Tristram Shandy: A C**k and Bull Story, reuniting with director Michael Winterbottom for an acerbically witty trip through the English countryside. Coogan is asked by The Observer newspaper to travel through the Lake District and Yorkshire Dales, dining in fine restaurants and visiting various historic locations from the life of William Wordsworth. But when his girlfriend backs out on him, he has no one to accompany him on the trip. Enter Brydon, his best friend and source of eternal aggravation. After a half-hearted invitation where Coogan explains he's asked everyone else and that Brydon is his last resort, the two of them set off in the car, armed only with a map and incredible comic timing. They spend much of the trip trying to one-up each other with hilarious, canny dueling impersonations of Michael Caine, Liam Neeson, Sean Connery and Woody Allen to name a few. Largely improvised, the film follows the pair through foodie heaven as they stop at some of the best restaurants and inns in the north of England.