First Look: 'The Thing' Prequel, Starring Mary Elizabeth Winstead And Joel Edgerton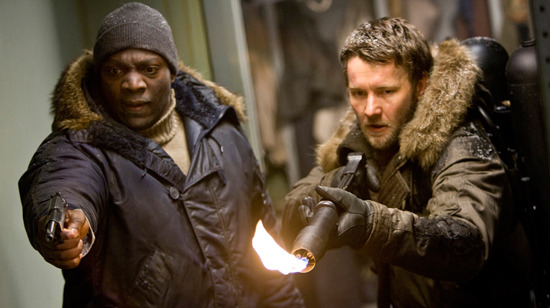 A few months back Universal invited a handful of web editors to the set of the prequel to John Carpenter's The Thing. This new film, also called The Thing for the time being, is directed by Matthis van Heijningen Jr. and stars Mary Elizabeth Winstead, Joel Edgerton, Adewale Akinnuoye-Agbaje and Eric Christian Olsen. We weren't able to make it up to Toronto for the set visit, but can now pass along the first eight shots, courtesy of Universal.
These images are both stills from the film and behind the scenes shots; I expect you'll easily be able to tell which is which.
The film takes place just prior to John Carpenter's 1982 remake of Howard Hawks' The Thing From Another World. The action is located in the Norwegian research base that is seen destroyed at the beginning of Carpenter's film, and much of this production is populated with Norwegian and European actors.
Now, some bullet points sourced from set reports filed by
and
:
Mary Elizabeth Winstead says that much of the film could be subtitled, as scenes were often performed mostly in Norwegian. English-language takes were shot at the end of each pass, for safety, so we don't know how much of the film will require subs.
The original Ennio Morricone score will likely be reflected in this new score, but Morricone won't score the film, nor will his music from the '82 version be used.
Producer Marc Abraham says that Matthijs van Heijningen Jr. relentlessly referenced John Carpenter's film while shooting this one, to make sure that details seen in Carpenter's movie are properly recreated. "... when it came to being anything that was referenced in that movie, we have absolutely stayed with it. Thousands of hours he's spent looking at that movie. He knows and is respectful of every aspect."
Effects co-designer Alec Gillis emphasizes what we've heard before, that there will be a mix of practical and CGI effects, with practical work used wherever possible.
The general sense is that this The Thing will be R-rated.
Here's the official synopsis:
Antarctica: an extraordinary continent of awesome beauty. It is also home to an isolated outpost where a discovery full of scientific possibility becomes a mission of survival when an alien is unearthed by a crew of international scientists. The shape-shifting creature, accidentally unleashed at this marooned colony, has the ability to turn itself into a perfect replica of any living being. It can look just like you or me, but inside, it remains inhuman. In the thriller The Thing, paranoia spreads like an epidemic among a group of researchers as they're infected, one by one, by a mystery from another planet.
Paleontologist Kate Lloyd (Mary Elizabeth Winstead) has traveled to the desolate region for the expedition of her lifetime. Joining a Norwegian scientific team that has stumbled across an extraterrestrial ship buried in the ice, she discovers an organism that seems to have died in the crash eons ago. But it is about to wake up.
When a simple experiment frees the alien from its frozen prison, Kate must join the crew's pilot, Carter (Joel Edgerton), to keep it from killing them off one at a time. And in this vast, intense land, a parasite that can mimic anything it touches will pit human against human as it tries to survive and flourish. The Thing serves as a prelude to John Carpenter's classic 1982 film of the same name.